---
Upcoming Events
Ongoing Opportunities
Garden Programs
Scout Projects
Invasive Species Program
Court Appointed and Suggested Service
Donations
Fletcher Awards
---
Make a difference in your community by volunteering with Raleigh Parks! Assist with landscaping, coaching, special events, the Adopt-A-Trail program, and other opportunities. There are many ways for individuals, groups, students, and businesses to contribute to our quality programs and facilities.
Upcoming Events
These single-time events help fulfill a program, maintenance, or special event need. By signing up, you are directly supporting Raleigh Parks in building a better community. Pre-registration through CERVIS at the links below is required for all volunteers. Click on the event names listed below to learn more and to register.
If you have a group that needs assistance choosing a project or would like to reserve slots for an event that does not have a waitlist, please contact Volunteer Services. All staffed projects are first come first serve, based on staff's availability and needs while unstaffed litter cleanups at City of Raleigh parks and greenways can be scheduled at any time.
Ongoing Opportunities
These opportunities are year-long commitments. An application and background check are required for each. Individuals/group contacts must be at least 18 years old to apply.
Program

Description
Conditions
Schedule

Adopt-A-Park

Contact Volunteer Services for more information

Interested individuals and groups can participate in park cleanups and support the Raleigh Parks System.

Sign Agreement

Meet at adopted park with staff

Submit hours to Volunteer Services

One year minimum with optional renewal. At least 6 cleanups a year.

Adopt-A-Trail

Interested individuals and groups can participate in trail cleanups and support the Capital Area Greenway System.

Sign Agreement

Submit your hours to Volunteer Services

One year minimum with optional renewal. At least 6 cleanups a year.

Moore Square Activation Ambassador

Create an activated, vibrant, and welcoming environment at Moore Square by assisting with programs and events.

On-site training with staff

Coordinate schedule with staff

Volunteer monthly, as scheduled.

Moore Square Historical Guide

Volunteers will lead groups on historical tours of Moore Square and will share Raleigh's history with the public.

On-site training with staff

Coordinate schedule with staff

Minimum of four hours per month, as scheduled.

City of Raleigh Museum Guide

Assist with hands-on education programs for schools. Guides will teach students ranging from kindergarten to middle school on the history of Raleigh.

Experience working with children

On-site training with staff

Coordinate schedule with staff

Weekly: each Tuesday - Friday, 10am – noon.

Mordecai Docent Volunteer Program

Docents will be responsible for giving one-hour park tours that include the historic Mordecai house, outbuildings, and landscape.

On-site training with staff

Coordinate schedule with staff

Weekly; each Tuesday - Saturday, 10am - 4pm or Sunday, 1pm - 4pm.
Garden Programs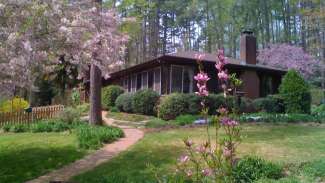 Help Parks staff with maintenance and horticulture needs across a park. In addition to an application and background check, each program requires volunteers to sign an Agreement, attend and on-site orientation with staff, and to submit hours to Volunteer Services. Individuals must be at least 18 years old to apply.
| Program | About  | Schedule |
| --- | --- | --- |
| Dorothea Dix Garden Volunteers | Dorothea Dix Park is Raleigh's largest city park. The 308-acre site blends historic architecture and rich landscapes into a unique destination in the heart of Raleigh. | Monthly; first Wednesday of every month from 9am - noon. |
| Fred Fletcher Garden Volunteers | Fred Fletcher Park is a 22-acre public garden. It is the former campus of the Methodist Home for Children and was purchased by the city in 1982. | Weekly; each Friday from 8am - noon. |
| Joslin Garden Volunteer | Joslin Garden has over four acres of rolling hills and gardens overflow with streams, walking trails, and a diverse collection of rare and native plants, arranged in both formal and informal areas. | Weekly; each Tuesday from 9am - noon, and Wednesday from noon - 3pm. |
| Mordecai Garden Volunteer | Mordecai Historic Park lies in the heart of downtown Raleigh and showcases one of the largest plantations in Wake County and is President Andrew Johnson's birthplace. | Weekly; each Wednesday from 9am – noon. |
| Raleigh Rose Garden Volunteer | The Raleigh Rose Garden has offered a year-round display of roses, trees, and perennials. The grounds include sixty rose beds with varieties of hybrid teas, miniatures, and antique roses. | Bi-weekly participation minimum on volunteer's own time. |
Scout Projects
Raleigh Parks Volunteer Services offers scouting projects for earning Girl Scout Bronze, Silver, or Gold Awards, Eagle Scout Awards, Adventure Scout Awards, Quartermaster Awards and more. Scouts must meet the requirements listed in the Scout Policies and Procedures Handbook to complete a project with the department. Once the requirements, process, and forms have been reviewed, contact Rachel Van Noordt with your request. See the approved project list below.
| Project Title | Location | Description  |
| --- | --- | --- |
| Invasive Plant Removals and GIS Mapping | Durant and Horseshoe Farm Nature Preserve  | Help create a heathy habitat for our native wildlife by mapping and removing invasive plant species from designated areas. |
| Joslin Garden Bridge | Joslin Garden | Open accessibility to more footpaths on the property by building and installing a bridge. |
| Kiosk Build | Shelley Lake | Build and install an informational kiosk with park rules and guidelines for fishing. |
| Sensitive Area Fencing Construction | Durant Nature Preserve | Construct fencing with posts and rope to prevent new social paths and to prevent sensitive plant species from being trampled. |
| Sensory Garden Pathway Revitalization | Durant Nature Preserve | Rebuild the garden's pathways by removing old material, laying new timbers and much along the path and weeding. |
| Sweetgum Picnic Shelter Revitalization | Durant Nature Preserve | Create a border around the shelter and dig out dirt before adding gravel to the interior and tamping it for a new surfacing. |
| Tree Planting for Habitat Connectivity | Annie Louise Wilkerson Nature Preserve | Plant roughly 100 tree seedlings in a pasture to create a corridor of forest habitat to connect separated forest areas. |
| Wilkerson Trail Enhancements | Annie Louise Wilkerson Nature Preserve | Enhance visitor hiking safety and protect habitats surrounding the trails by adding trail-border logs and improving the surface. |
*We can plan group projects for individual scouts and groups that are not associated with awards as well.
Invasive Species Program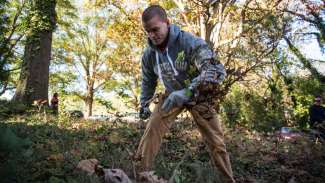 The Invasive Species Program provides an opportunity for individuals and groups to have hands-on experiences with managing non-native plant species in Raleigh's parks and trails. Learn about identifying invasive vegetation, their negative impact on the environment, and how to effectively remove them. For more information, visit the Invasive Species Program webpage.
Court Appointed and Suggested Service
This program provides an opportunity for individuals who need to complete requirements for court appointed volunteer hours and/or volunteer hours suggested by a lawyer or court official. Volunteers in this program can assist at the City of Raleigh greenhouse. This is the only location and opportunity available for this program and is based on staff need. Days and times open for volunteering are Tuesdays and Thursdays between 8 a.m. - 2:30 p.m. Volunteers with more than 24 hours are unable to volunteer for this opportunity. Please contact prvolunteer@raleighnc.gov with inquiries.
Donations
These donation programs offer opportunities for community citizens to partner with the City of Raleigh to donate resources for the enhancement of City of Raleigh parkland. Individuals and groups may donate funds for trees and general parkland enhancement projects. All general parkland enhancement donations will be used to fund projects that fit within each park's Master Plan and Maintenance Plan. For more information about each donation opportunity, please select the links below.
*Bench donations are no longer accepted at Dorothea Dix, Durant, Horseshoe Farm, Lake Johnson, Lake Lynn, Moore Square, Nash Square, Oakwood Commons, Pullen Park, Raleigh Rose Garden, Rothgeb, or Shelley Lake. Iron benches are no longer available for Fred Fletcher Park, but there are a few locations where standard benches are available. There is limited availability along the greenways. 
For additional donation opportunities with Raleigh Parks, Recreation, and Cultural Resources, visit the Financial Assistance webpage.
Fletcher Awards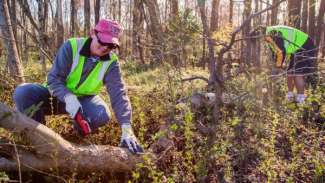 The Fred Fletcher Outstanding Volunteer Awards Program honors Mr. Fletcher's 54 years of dedicated service to Raleigh Parks by recognizing citizens, businesses, community organizations, and nonprofit organizations who have made outstanding contributions to programs, services, and facilities offered by Raleigh Parks. Visit the Fred Fletcher Outstanding Volunteer Awards webpage to see award categories, past recipients, and to learn more.
Additional Volunteer Opportunities