---
Upcoming Events
Greater Commitment Opportunities
Fletcher Awards
Group Volunteers
Invasive Species Program
Adopt-A-Park
Adopt-A-Trail
Scout Projects
Community Service
Parks Donation
---
Join the Raleigh Parks Volunteer Program! Make a difference in your community by volunteering for a park project, athletic team, special event, or Adopt-A-Park program. There are many opportunities for individuals, groups, students, and businesses to contribute to our quality programs and facilities.
Upcoming Events
Pre-registration is required of all volunteers to ensure enough tools and supplies are available for park projects and special events.
Click on the event name listed below to register.
Greater Commitment Opportunities
These opportunities are year-long commitments. A completed volunteer application and background check is required for each.
Fletcher Awards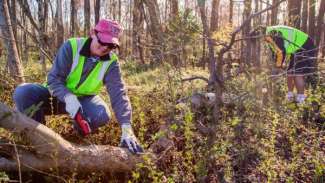 The Fred Fletcher Outstanding Volunteer Awards Program honors Mr. Fletcher's 54 years of dedicated service to Raleigh Parks by honoring citizens, businesses, community organizations, and nonprofit organizations who have made outstanding contributions to the programs, services, and facilities offered by Raleigh Parks. 
Group Volunteers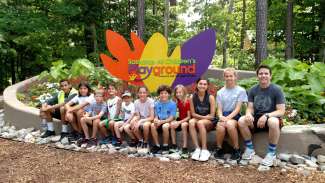 Businesses, schools, churches, and organizations have the opportunity to contribute time, talent and resources to City parks. To set up a volunteer event unique for your group, complete the group volunteer project interest form. For more information on coordinating a group volunteer project, please contact Olinda Oliveira.
Invasive Species Program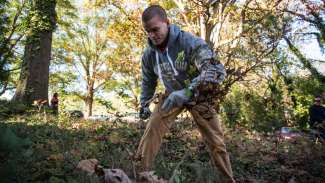 The Invasive Species Program provides an opportunity for individuals and groups to assist with the management of invasive species in our City parks and greenway trails. Through the use of volunteers and staff, volunteer projects will be scheduled to help maintain the invasive species issue. Volunteers will assist with the manual removal of invasives and tracking of invasive species in our parks and greenways. For more information, contact Leigh Bragassa.
Adopt-A-Park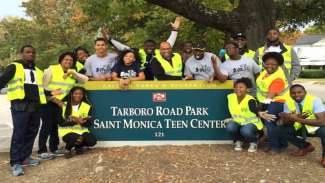 Adopt-A-Park program provides volunteer opportunities for interested individuals, businesses, and groups to participate in park maintenance projects and support the Raleigh Parks System. Citizen volunteers or groups agree to participate in a volunteer project at the designated park or open space four times for at least one year. Volunteers or groups of volunteers are asked to sign an Adopt-A-Park agreement. This agreement is renewed on a yearly basis. Volunteers can adopt any available park. For more information and to begin your adoption, please contact Volunteer Services.
Adopt-A-Playground program allows citizen volunteers and groups to help keep our playgrounds safe and clean. Volunteer responsibilities include: visually inspecting and wiping down equipment, picking up litter, and raking sand/woodchips. Volunteers are asked to complete an Adopt-A-Playground agreement and participate in volunteer activities once a month for a year. To join the Adopt-A-Playground program, contact Volunteer Services.
List of Playgrounds
Adopt-A-Trail
The Adopt-A-Trail program provides volunteer opportunities for interested individuals, businesses and groups to participate in trail cleanup and support the Capital Area Greenway System. Citizen volunteers agree to maintain the greenway trail quarterly for at least one year. Volunteers must sign an Adopt-A-Trail Agreement and submit quarterly reports to Parks staff. Volunteers can adopt any available trail segment by viewing our interactive map. Find your trail now
Scout Projects
The City of Raleigh Parks, Recreation and Cultural Resources Department offers scouting projects for the following:
Girl Scouts interested in achieving their Bronze, Silver, or Gold Award.
Eagle Scout projects
Adventure Scouts
Quartermaster awards
And more!
You must meet the following requirements to complete a project with our department:
Eagle Scouts must have a minimum of six months before their 18th birthday
All scouts must have a minimum of six months to complete their project
Scouts will have to choose an approved project from the list below
Secure all funding to cover costs for all project materials and supplies
Boy Scouts must be a Life Scout and actively involved in his troop
Be able to serve as the lead role and effectively communicate with Parks, Recreation and Cultural Resources staff
To get started, view the Eagle Scout Policies and Procedures Handbook for additional details on project requirements, process, and forms. This handbook is applicable across all scouting projects. For more information, contact Rachel Van Noordt.
| Project Title | Location |
| --- | --- |
| Build Pollinator Garden | Walnut Creek Wetland Park |
| Butterfly Fence Construction | Durant Nature Preserve |
| Invasive Plant Removals and GIS Mapping | Various |
| Plant ID Sign Installations | Raleigh Rose Garden |
| Sensitive Area Fencing Construction | Durant Nature Preserve |
| Story Book Trail Station Construction | Walnut Creek Wetland Park |
*We can plan group projects for individual scouts and groups that are not associated with awards as well.
Community Service
Please note that the community service volunteer program is currently on hold.
The community service volunteer program provides an opportunity for individuals who need to complete requirements for court-appointed volunteer hours and/or volunteer hours suggested by a lawyer or court official. Volunteers in this program can assist at the City of Raleigh greenhouse. This is the only location and opportunity available for this program. Volunteers with more than 24 hours are unable to volunteer for this opportunity.
To participate in this volunteer program, please complete the following:
Complete the application in the packet
Obtain a letter from your lawyer or court official that includes your name, number of hours appointed/suggested, your offense, and the date volunteer hours are to be completed
Send the Community Service Volunteer Application and letter to Volunteer Services. 
Parks Donation
Parks donation programs offer opportunities for community citizens to partner with the City of Raleigh to donate resources for the enhancement of City of Raleigh parkland. Individuals and groups are able to donate funds for trees and general parkland enhancement projects. All general parkland enhancement donations will be used to fund projects that fit within the parkland's Master Plan and Maintenance Plan. For more information on each donation opportunity, please select the links below.
We are no longer accepting bench donations at Raleigh Rose Garden, Pullen Park, Lake Lynn, Lake Johnson, Shelley Lake, Nash Square, Moore Square, Durant, Horseshoe Farm or Dorothea Dix Park.
Questions about donating to the City of Raleigh Parks and Greenway Trails? Please contact Volunteer Services.
For additional donation opportunities with Raleigh Parks, Recreation, and Cultural Resources, visit the Financial Assistance webpage. 
Additional Volunteer Opportunities