---
New Program!
Opportunities
Program Registration
Highlights
Celebrate Regional Creek Week
---
Volunteer with us to help protect the planet! You can volunteer for a day or on a more long-term basis. 
Once you find the program that's right for you, we'll provide everything you need to get started.
New Program!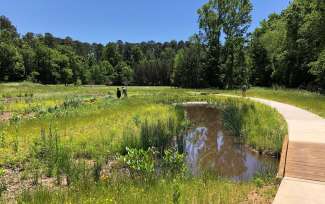 We launched a Green Stormwater Infrastructure (GSI) Visual Monitoring pilot program to track how GSI projects grow and transform over time. Help us monitor GSI by using one of the phone stands to snap a photo, and then sharing it with us!
Opportunities
Learn more about each volunteer program to choose the one that works best with your schedule and interests.
| Program | Description | Age | Commitment | Requirements |
| --- | --- | --- | --- | --- |
| Storm Drain Marking | Glue "No Dumping" stickers on your neighborhood storm drains to remind others to never put harmful chemicals or other items into the drain. | 10 years or older with adult supervision | A few hours | Must sign up two weeks in advance and submit data. |
| Stream Cleanups | Join us for a stream cleanup twice a year at different locations in Raleigh. Volunteers help remove thousands of pounds of trash from local streams. | 10 years or older with adult supervision | A few hours | Register beforehand and wear safety gear (City provided). |
| Stream Monitoring | Learn more about Raleigh's waterways and collect data on the overall health/quality of a stream | 18 years or older | One-year minimum with training workshop | Take part in a workshop before volunteering; collect monthly water samples; collect aquatic insect samples in the fall or spring (optional); and submit data. |
| Adopt a Stream | Choose a stream to clean throughout the year. This helps us remove trash from streams and identify other sources of pollution. | 10 years or older with adult supervision | Three-year minimum | Complete two stream cleanups and submit data |
Program Registration
Are you interested in a volunteer program? Fill out the volunteer registration form.
Please allow one business day to get a confirmation from staff after you submit the form. 
Note: Stream cleanup registration is separate / available when we have an event scheduled. 
Highlights
2021
Volunteers collected more than 13,400 pounds of trash from streams.
Nearly 600 volunteers worked to protect areas near Walnut Creek and Crabtree Creek.
Thank you for all you've done to reduce water pollution and protect the environment.
All volunteer activities followed social distancing guidelines.
Volunteer Feature: Julie Atashi
See why Julie Atashi and her students work together to clean up the stream near the Follow the Child Montessori School.
Celebrate Regional Creek Week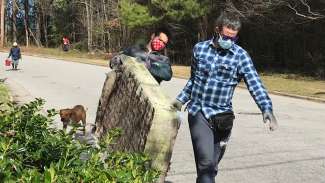 We celebrated the Clean Water Education Partnership Regional Creek Week in March. Check out our stormwater stats from this year!
Stormwater Volunteer Spotlights