---
Indoor Open Play
Outdoor Courts
Pickleball Clinics
FAQs
---
Pickleball is a fun sport that combines many elements of tennis, badminton, and ping-pong. Pickleball can be played both indoors or outdoors on a badminton-sized court using a slightly modified tennis net. It is played as doubles or singles with a paddle and a plastic ball with holes. The sport has many physical and social benefits.
Indoor Open Play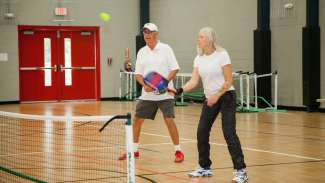 Players interested in playing indoors should be aware of the following program details:
There will be sign-up sheets in the gym for court rotations.
You will be asked to complete a registration form and sign a waiver when you purchase the pass. Complete a registration form ahead of time for ease.
Please bring exact change or a credit card to make payment. We may be unable to provide change. If exact change is not provided, we will place a credit on your account for future use.
We ask for your patience as staff navigates the new registration system.
Where is indoor open-play pickleball offered?
| Community Center | Address | Open Play Schedule |
| --- | --- | --- |
| | 10810 Globe Rd, Raleigh, NC 27617 | |
| | 4201 Green Rd, Raleigh, NC 27604 | |
| | 505 Martin Luther King Jr. Blvd, Raleigh, NC 27601 | |
| | 7921 Ray Rd, Raleigh, NC 27613 | |
| | 516 Dennis Ave, Raleigh, NC 27604 | Schedule |
| | 514 Method Road, Raleigh, NC 27607 | |
| | 5900 Whittier Dr, Raleigh, NC 27609 | |
| | 121 North Tarboro Rd, Raleigh, NC 27610 | |
| | 1001 Cooper Rd, Raleigh, NC 27610 | |
Outdoor Courts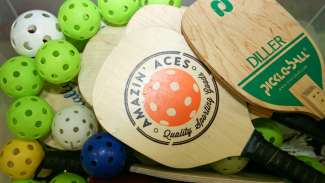 Raleigh Parks has six permanent outdoor pickleball courts located at Method Community Park and six permanent outdoor courts at North Hills Park.
These courts are open from dusk until 10 p.m. with lighting on a timer. Players are asked to follow all posted rules regarding rotating courts.
Learn about the North Hills Park Pickleball Court Conversion project.
FAQs
How much does open-play pickleball cost?
A four-month pass can be purchased for $10. Passes expire four months from the date of purchase and can be used to enter any available session. A single session pass will cost $2. Nets and pickleballs are provided. A limited number of paddles are available at each site for participants to borrow.
What are the rules of open-play pickleball?
Please read the Pickleball Open Play Guidelines.
How can I stay up to date on pickleball?
Sign up to receive pickleball updates to your email inbox with MyRaleigh subscriptions.