---
Ongoing BRT Projects
Raleigh BRT: Equitable Development Around Transit
Wake BRT: New Bern Avenue
Wake BRT: Western Boulevard
How is BRT different from conventional bus service?
Dedicated Lanes
Traffic Signal Priority at Intersections
Makes Fewer Stops Along the Corridor
Pre-Boarding Fare Collection
Raised Platforms for Easy Boarding
Premium Amenities at Stations
BRT Service
---
A Bus-Based Public Transportation System
Raleigh has envisioned a future with greater freedom and choice of mobility than ever before. In November of 2016, Wake County voters approved a plan for focused investment in public transit which puts the implementation of the Wake County Transit Plan in motion, including building approximately 20 miles of BRT lanes.
Ongoing BRT Projects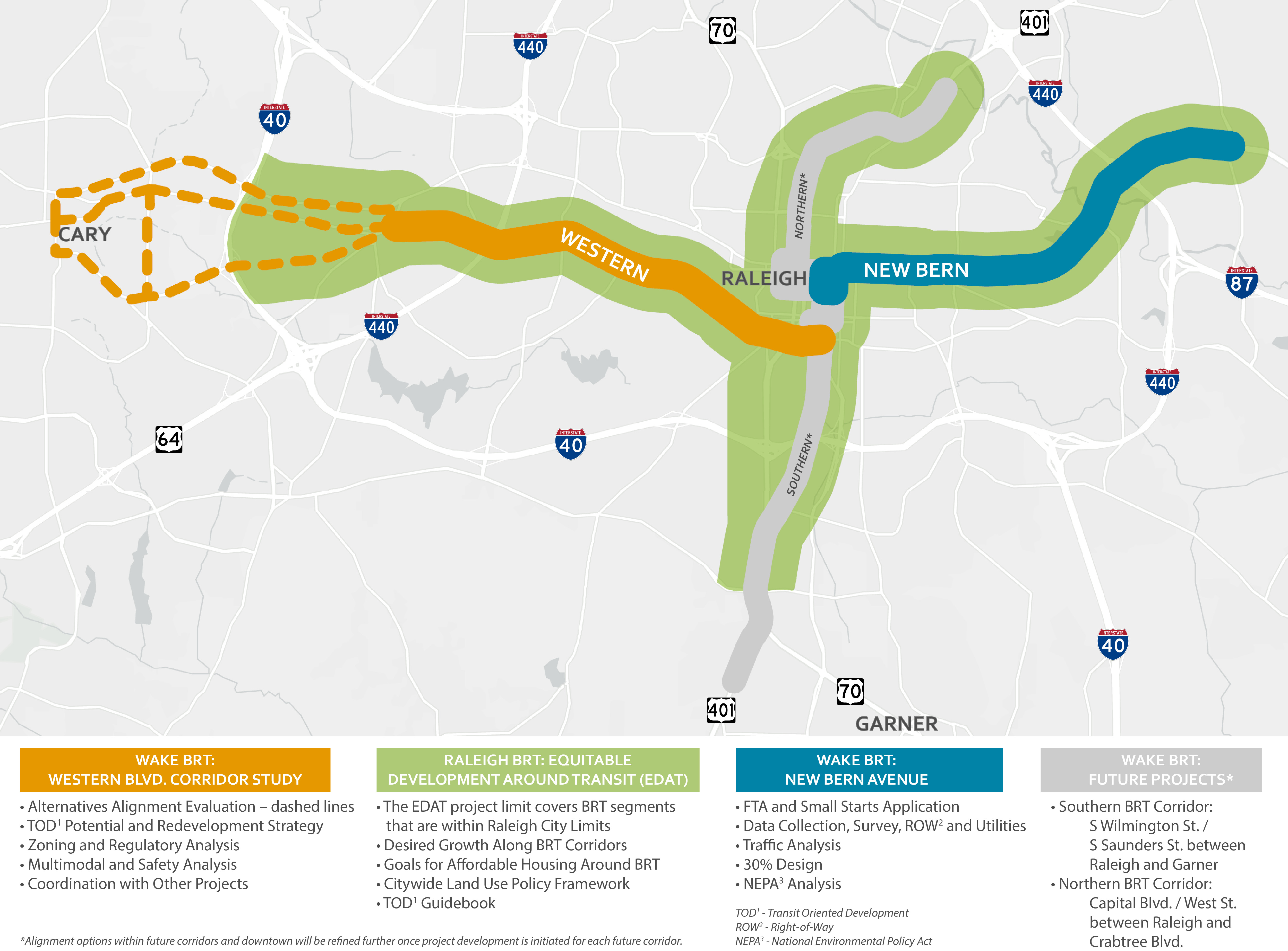 Currently, there are three BRT studies being developed through the City:
Also, check out our engagement portal to find the lastest ways you can get involved in the process and view the results of our past surveys.
Raleigh BRT: Equitable Development Around Transit
Bus Rapid Transit service will serve existing neighborhoods and shape future growth. That is why equity is a core consideration of this project. City Planning is working on a plan for how to foster fair development around transit.
Wake BRT: New Bern Avenue
The design phase for implementing BRT on New Bern Avenue is underway. Approximately 3.3 miles of the 5.1-mile corridor would use dedicated transit lanes between the GoRaleigh Station, in downtown Raleigh, and Sunnybrook Road. BRT would share the general traffic lanes for the remainder of the corridor between Sunnybrook Road and New Hope Road.
Wake BRT: Western Boulevard
The Western Boulevard Corridor was identified as one of four BRT corridors in the Wake Transit Plan. Initial analysis of the alternatives was conducted as part of the Wake County Transit Plan Major Investment Study (MIS). This Wake BRT: Western Boulevard Planning Study will help select the locally preferred alternative in advance of more detailed planning and design work. 
The Wake BRT: Western Boulevard Planning Study is intended to bridge the gap between the Major Investment Study and Project Development for the new Bus Rapid Transit (BRT) service between Downtown Raleigh and Downtown Cary (the 'Western BRT' service). The output of this study is intended to leverage existing and recently adopted studies to position the corridor for successful BRT implementation. The goals of the study are to:
Identify preferred alignment for BRT connection into downtown Cary
Understand the redevelopment potential along the Western Blvd. corridor
Generate consensus for a conceptual land use strategy for the corridor
Identify engineering hot spots and coordinate with other planned improvements
How is BRT different from conventional bus service?
BRT gives priority to buses on roadways at intersections and through the use of dedicated bus lanes. This makes it possible for bus drivers to bypass traffic and keep their routes on schedule.
BRT has several distinguishing features which are described below.
Dedicated Lanes
As an alternative to mixed-flow transit lanes, BRT buses have their own lane in traffic. Dedicated lanes ensure that they are never delayed by congestion, regardless of the time of day. Removing BRT buses from traffic also reduces the risk of traffic collisions which increases safety and reliability for all vehicles.
Traffic Signal Priority at Intersections
BRT lanes are protected from turning traffic. At intersections, cars cannot cross dedicated BRT lanes to turn, which increases bus efficiency and roadway safety. BRT buses can also coordinate with traffic signals along their route, increasing their time efficiency and ability to stick to prescribed schedules by eliminating wait times at traffic lights.
Makes Fewer Stops Along the Corridor
BRT buses can stick closely to their schedules with the implementation of dedicated infrastructure and less frequent stops that boosts efficiency. Additionally, BRT buses are outfitted with up-to-the-minute GPS tracking so that the stations can display live, accurate updates for bus arrival time which creates greater predictability in the public transit network.
Pre-Boarding Fare Collection
Fare payments are made at the station instead of on the bus to minimize delays in picking up passengers. Pre-payment improves passenger convenience and accessibility by eliminating wait times and the potential for confusion on board the bus.
Raised Platforms for Easy Boarding
The bus and the boarding station are at the same level to facilitate expedited boarding, to ensure safety, and to make boarding the bus accessible and comfortable for all. In this way, BRT station design is more akin to a metro station than a traditional bus stop. The stations are positioned to eliminate any gap or step-up necessitated by conventional bus boarding. By increasing the height of the station to match the bus boarding level to eliminate the step-up, BRT can be more accessible to disabled passengers.
Premium Amenities at Stations
BRT corridors are outfitted with specialized stations that provide more services for riders. These services include improvements to ticketing, scheduling, and boarding.
BRT Service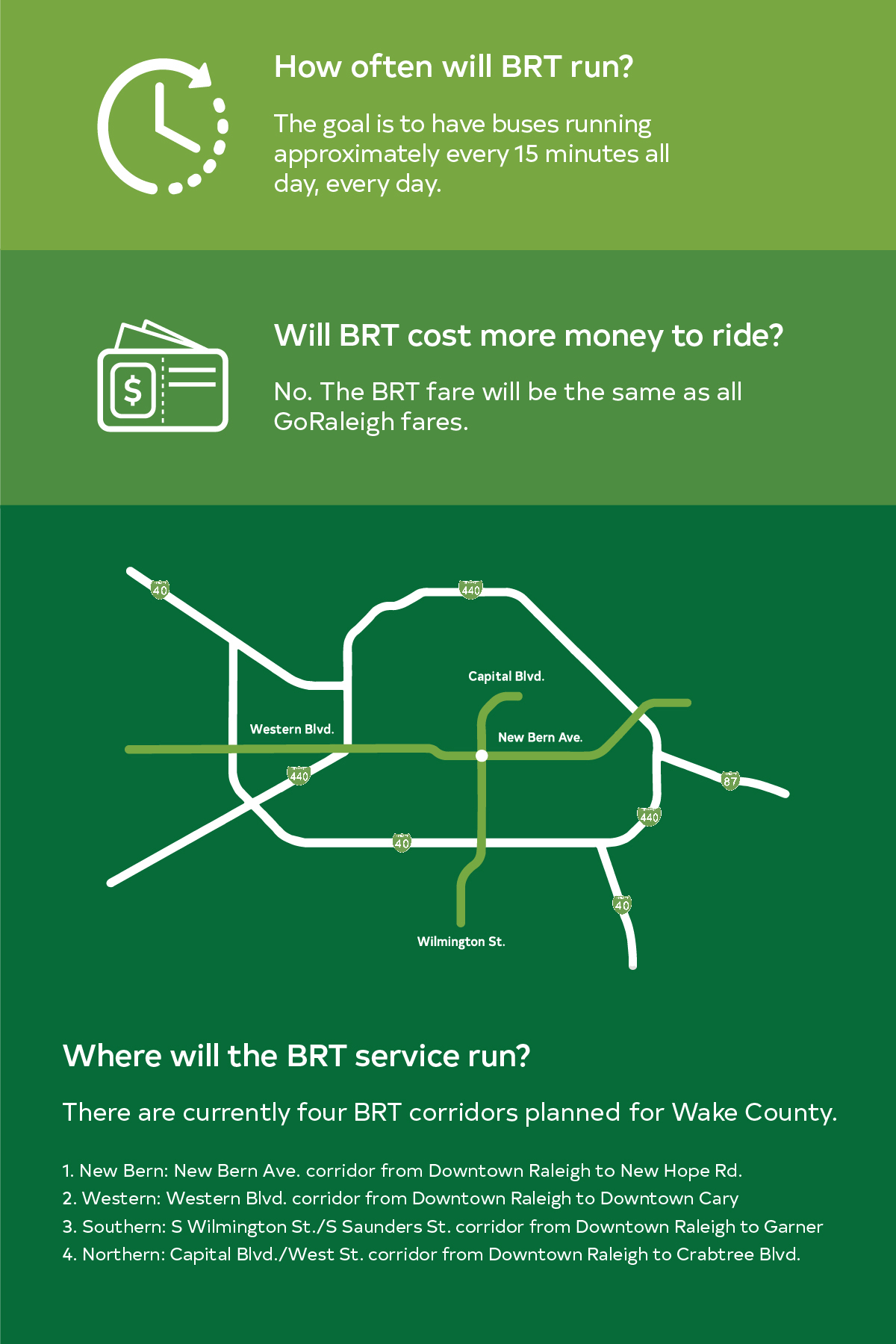 The addition of Bus Rapid Transit to Raleigh's existing network of public transportation will allow the system to better meet transit demands, take more cars off the road, and get riders where they need to go faster. Raleigh already has a successful network of traditional bus routes serving the downtown and surrounding areas. Because BRT is a bus-based rapid transit solution, it can seamlessly supplement the existing system by expanding the reach and capacity of bus service along strategic corridors. Other cities who have implemented BRT have seen successful integration it into a multimodal transit network.