---
Eligibility Requirements
Application Process
When and How You Can Apply
Fire Recruit FAQ
---
If you love helping others, being a good neighbor, looking for job stability, and a competitive benefit package then the Raleigh Fire Department is a the right fit for you. No previous fire experience is required and we wish for all interested candidates to apply.
Applications are currently closed. Applications are set to open on Nov. 1. 2021. 
Eligibility Requirements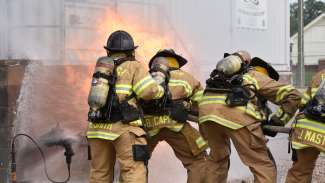 Candidates must be able to meet the rigorous physical and mental demands of the job.  One must be able to think, act quickly, and perform competently in complex, dangerous, and dynamic emergencies.
Requirements include:
At least 19 years old by the first day of the academy
Have a high school diploma or equivalent ( proof required)
Corrected vision of at least 20/30 in both eyes
An operational telephone
Must reside within a 60-mile radius of the City Municipal Building by academy graduation. 
Have a Valid Driver's license
For a full list of requirements and disqualifications see candidate manual
Note: We will not be running an abbreviated academy for this process.  We will only be running a traditional academy.
Application Process
The  application process is usually five months. Steps for application include:  
Click to learn more about the application process.
When and How You Can Apply
The City of Raleigh uses an online application process. Applications are not accepted in person and must be completed online. Applications will be available November 1, 2021 until November 30, 2021 at 11:59:59.
How to Submit An Application
All applicants must go to the NEOGOV website and create a governmentjobs.com account. If you already have a GovernmentJobs.com account, sign in with your username and password, select the job title and then apply. All sections of the application must be completed. If a question does not apply to you, indicate with NA. Questions marked with an asterisk (*) are required.
For support related to the online application process please call 855-524-5627 between 9 a.m. and 9 p.m. Eastern Standard Time.
Fire Recruit FAQ
Don't see the information that you are looking for? Our frequently asked questions page may have the answers. You can also email us at rfdrecruiter@raleighnc.gov