---
Pools and Hours
Admission Fees and Passes
Swim Lessons
Exercise and Lap Swim
Adaptive Aquatics
Intra-City Swim Team
Financial Assistance
Lifeguards
---
The City of Raleigh has eight pools and aquatic centers throughout the City where you can enjoy splashing around, exercise, learn to swim or relax pool side.
Pools and Hours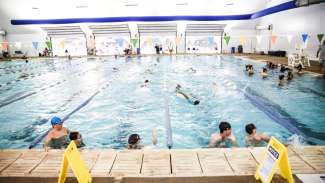 You can enjoy our pools and aquatics year round at one of our indoor facilities or during the summer at one of our outdoor pools. 
How to Find a Pool
View All: See all eight pools and aquatics centers with photos and addresses at a glance.  
Search by your address: Use our interactive park locator tool to find pool nearest you when you enter "swimming" under amenities.
By type: Year round pool vs. summer pools are listed in table.  
Year Round Pools
Summer Pools - Closed for the Summer 2023 Season
Admission Fees and Passes
Residents and non-residents must pay an admission fee to visit a City of Raleigh pool or aquatics center. 
Where to pay for daily admission: Pay daily admission fees and Punch Passes (15 admissions) at the front desk of one of our pools / aquatic centers.
Where to buy multi-day Passes: Buy monthly and annual passes at any of the year-round pools (Optimist, Millbrook, Pullen, and Buffaloe Road Aquatic Center).
Payment methods: Credit cards, cash, or checks. 
Daily Admission Fees
Pool(s)
Ages 1-12 
Ages 13-54 
Ages 55+
Pullen, Optimist, Millbrook & Seasonal Pools 
$2 / resident
$3 / non-resident 
$5 / resident
$8 / non-resident 
$4 / resident
$6 / non-resident 
Buffaloe Road Aquatic Center
$4 / resident
$7 / non-resident 
$8 / resident
$15 / non-resident 

$6 / resident
$11 / non-resident
Multi-Day and Annual Passes
Type of Pass 
Ages 1-12 
Ages 13-54 
Ages 55+ 
15-Admission Punch Pass
(Expires 2 years from the date of purchase.
Good for 15 entries.)

$24 / resident 
$36 / non-resident 

$60 / resident
$96 / non-resident 

$48 / resident
$72 / non-resident 
Monthly Pass
(valid one month to date) - valid at all facilities) 
$18 / resident
$27 / non-resident 

$45 / resident
$72 / non-resident

$36 / resident
$54 / non-resident
Annual Pass
(valid one year to date) - valid at all facilities
$120 / resident
$180 / non-resident 
$300 / resident
$480 / non-resident 
$240 / resident
$360 / non-resident 
Note: Children 12 years or younger must be accompanied by a paying adult age 16 or older. Monthly and annual passes are purchased at any of the year-round pools - Optimist, Millbrook, Pullen, and Buffaloe Road Aquatic Center.
Swim Lessons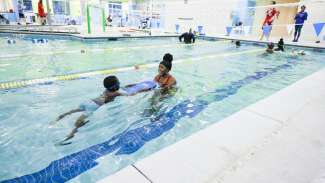 Raleigh Aquatics is committed to providing quality Learn to Swim programs. Sessions will be scheduled pending instructor availability to ensure a safe, enjoyable swim lesson experience. Any additional sessions will open for registration on Mondays at 9 a.m. Please visit RecLink to view available sessions and to register. 
You can learn to swim with group classes or request a private lesson. You'll find information about how to sign up in the table below. 
Class Type 
Description 
How to Sign Up 
Group Class 
Raleigh Aquatics offers beginner to advanced American Red Cross swimming lessons for adults (14 years and older) and youths starting at 6 months.

You can find and register for upcoming swim classes online by using Reclink and browsing "Aquatics".

 

Private Lessons 
Private swim lessons and stroke development are offered at Buffaloe Road, Millbrook, Optimist, and Pullen Aquatic Center. Private lessons are offered at times when group lessons are not being conducted and based on instructor availability.
To request private lessons:

Return the completed form to the facility where you would like the lesson (Buffaloe Road, Millbrook, Optimist, and Pullen).
Non-City Lessons
The City of Raleigh does not allow individuals or groups to conduct private instruction at any City-owned swimming facilities.
Exercise and Lap Swim
At our Raleigh pools and aquatics centers you can sign up for a water exercise class or do laps during scheduled swim lane hours.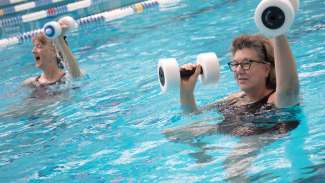 Water Exercise Classes
We offer classes to help you build strength and cardiovascular endurance like pool Pilates, hydrofusion, and water walking. You can purchase either a single-class or a multi-class pass. 
Learn More about the Raleigh Aquatics Water Exercise Program.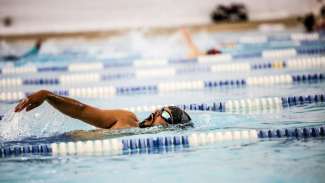 Lap Swimming
Lap lanes are available on a first-come, first-service basis at our City pools. Swim lane hours vary by location.
Call each site for more information.
Make sure to follow Lap Swimming Rules and Etiquette
Adaptive Aquatics
The City of Raleigh Parks, Recreation and Cultural Resources Department welcomes the participation of all individuals, including those with disabilities or special needs. We are committed to compliance with the ADA and will provide reasonable accommodations to facilitate participation in our programs. 
Registration
Raleigh residents and non-residents are welcome to register for a group swim lesson or other aquatics programs. Fees vary by program.  Make sure to browse RecLink to view the catalog.
You can register: online via RecLink, walk in to any of our pools or aquatics centers or mail it in to Raleigh Aquatics, 2401 Wade Ave., Raleigh NC 27607. 
Note: Registration for Water Exercise Classes is not available online.
Waitlist Policy: Many of our programs fill up quickly. After making course selections, we encourage you to submit your registration. Once a course is full, we begin a waiting list and process registrations as space becomes available. If you are placed on a waiting list for a course, you will receive notification from staff prior to the start of the course as to the status of your request. No payment is taken for placement on a waiting list.
Intra-City Swim Team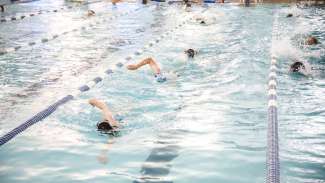 The program's goal is to provide an opportunity to experience competitive swimming in a fun, enjoyable, and relaxed environment. Prerequisite - participants must be able to swim 25 yards unassisted. Find out more about the age requirements, costs, and schedules on our Intra-City Swim Team page.
Financial Assistance
The City of Raleigh Parks, Recreation, and Cultural Resources Department strives to provide programs to all. Thanks to generous donations and support, we are able to provide financial assistance to those in need. Financial assistance is provided on a sliding scale based on income and other financial circumstances. All patrons who wish to register for programs provided by the City of Raleigh Parks, Recreation, and Cultural Resources Department are eligible to apply. Please note that financial assistance is not available for specialty camps, organizations, adult teams, special events, or rentals. For more information on eligibility or to request the financial assistance application, please call 919-996-4839 or email Fee.Assistance@raleighnc.gov.
Lifeguards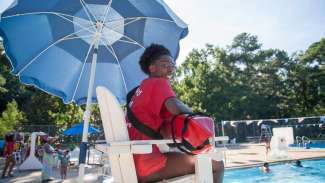 We are currently seeking lifeguards to staff our pools and aquatic facilities. Lifeguards are currently being hired at $13 per hour, and the City of Raleigh will provide Lifeguard Training for candidates that do not hold a Lifeguarding Certification.
For more information, see the Lifeguards page.
Additional Resources and Related Pages