---
View the 2023 Climate Action Implementation Report
Raleigh Community Climate Action Plan
---
View the 2023 Climate Action Implementation Report
Thank you, Raleigh for taking climate action! Raleigh's first Community Climate Action Plan Implementation Report demonstrates the implementation of projects and policy changes in each Community Climate Action Plan (CCAP) strategy area. Climate action work is taking place in many areas of the City of Raleigh government, as well as by many partners across the Raleigh community. The work across our community has contributed to Raleigh's climate action successes. See our Community Climate Action Data Dashboard for information and progress on cleaner transportation, renewables and energy efficiency, and a more walkable city.

In future updates, we will continue to identify community partners taking climate action and update measurements that show our progress on those actions. Stay tuned here for continued updates.
Read the Community Climate Action Plan Implementation Report
Raleigh Community Climate Action Plan
Raleigh's Community Climate Action Plan (CCAP) aims to reduce City-wide greenhouse gas (GHG) emissions 80% by 2050.
The City's first community-wide plan for action was released in 2021 and was developed with the help of experts, leaders, community organizations, and City staff. The Plan looks at Raleigh's sources of emissions and offers strategies to reduce them.
The CCAP lays out a plan for Raleigh to:
Reduce GHG emissions from energy use, transportation and waste
Build community resilience to the impacts of climate change
Support climate equity in Raleigh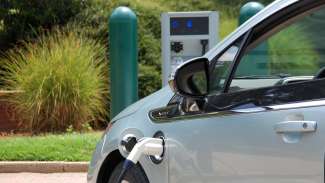 View the Plan
In the Raleigh community, residents and businesses have been taking their own actions, from installing solar panels on roofs to riding their bikes to work to reduce GHG.
These small actions add up, but in order to achieve our goal and make the impact needed on climate change, we must all work together!
Raleigh's Work on Climate Action
Raleigh has been working to reduce emissions and prepare for climate impacts since 2007. Learn what we've been doing