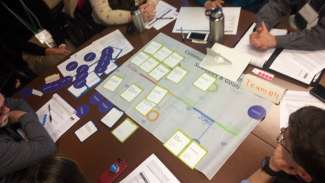 The Community Climate Action Plan was developed with a full range of stakeholders from the Raleigh community. These stakeholders represented businesses, universities, community organizations, State and County agencies, and City staff. Working in teams, they proposed actions for the Plan, evaluated strategies, and reviewed the climate models included in the document. An initial step in the project was for everyone to understand greenhouse gas emissions; what they are, where they come from and how they affect the climate.
There were over 150 participants included in the CCAP process. The teams discussed goal setting, provided advice and feedback on strategies, and provided connections to local resources.
These participants made up four key stakeholder groups:
City Staff: This group was an interdepartmental team of City of Raleigh staff. The team provided technical expertise and input into infrastructure, environmental and community-related goals.
Technical Advisors Team: This group contributed their expertise in energy, business, education, development and other sectors. These stakeholders provided input on setting targets, evaluating strategies and developing partnerships for climate actions.
Community Action Team: This group of stakeholders included representatives of community-based, environmental, local non-profit, faith-based groups and other organizations. This group shared their experience working in the Raleigh community to motivate change.
Equity Advisors Team: This group provided expertise in equity, environmental justice, equitable economic development, public health, and community engagement. This group provided feedback on how best to incorporate and embed equity into the development of the project.
All participants contributed to the development of CCAP's priorities, strategies, actions and implementation plans.
You can learn more about how the plan was developed in the CCAP document.