---
Development Projects
Videos: GSI in the Community
City Projects
Partner Projects
Go Above & Beyond
---
Development Projects
Green stormwater infrastructure benefits land development. You can:
Use natural and built landscape features to capture and soak up rainwater.
Reduce water pollution that would otherwise go to storm drains and streams.
Properties and roads with these features have a lower impact on land and they are good for the environment. See more information
Advancing use of green stormwater infrastructure (Plan approved in July 2021)
City Projects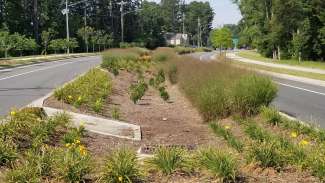 There are several City of Raleigh road projects that include bioretention areas. These areas manage the flow of stormwater and remove water pollution coming from a road before it reaches storm drains and streams.
Other Road Projects 
Projects at Parks 
Partner Projects
We're partnering with NC State to install green stormwater infrastructure at Biltmore Hills Park. Learn more about this project.
Go Above & Beyond
You can add these features to your property beyond what's required for development. Learn about Raleigh Rainwater Rewards. We'll reimburse you for projects done at your home or business.