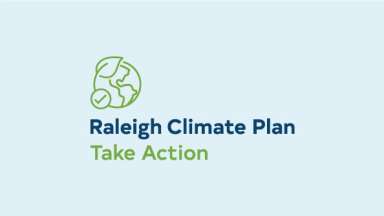 In 2021, Raleigh's City Council adopted the Community Climate Action Plan (CCAP). CCAP lays out a path to achieve our goal of an 80% reduction in greenhouse gas emissions by the year 2050. 
CCAP has three objectives: to reduce greenhouse gas (GHG) emissions, to build community resilience to climate change impacts and to support climate equity.
The strategies in CCAP support these objectives. Raleigh's primary sources of greenhouse gas (GHG) emissions come from how we use energy in our buildings and how that energy is produced, how we get around, and how our landfill waste breaks down. CCAP strategies are divided into three main categories to address GHG emissions, build resilience and support equity. Click the strategy links below to see what projects are happening now!
Strategies for Buildings and Energy: These strategies help conserve energy and move Raleigh toward more renewable energy sources

Strategies for Transportation and Land Use: These strategies help us move away from single occupancy vehicles by planning for a more connected city with a wider range of vehicle fuels available.

Resilience and Cross-cutting Strategies: These strategies help to build our community resilience to climate change, manage waste, and think about how we will implement the other CCAP strategies
You can read our first CCAP Implementation Progress Report and find all of our climate data online now.