---
About the Project
Artist Biography
---
About the Project
Raleigh Stories is a community engagement public art project by Deborah Aschheim about Raleigh neighborhoods and communities. Aschheim creates unique drawings of the people and places that make up the Raleigh community. Participants receive a free signed print of their drawing and are featured on the Raleigh Stories Instagram. Other public art projects related to this project will also be installed around the city.
Want to Add to the Raleigh Stories Project?
Subscribe to the Arts Flash Newsletter to learn about upcoming events with Deborah Aschheim and other Raleigh Arts news.
Artist Biography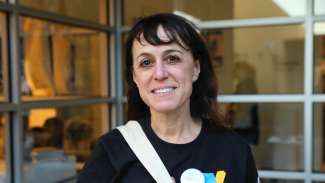 Deborah Aschheim makes installations, sculptures, and drawings about memory and place for buildings, parks, hospitals, transportation, and social media platforms. She has explored themes of collective memory, oral history, and social justice themes in vernacular history projects that blend participant interviews with drawing to bring the stories of diverse communities to life.