---
Middle Housing Types
What does TC-5-20 do?
Why should existing neighborhoods allow more housing?
Middle Housing and Sustainability
Commonly Asked Questions
---
Raleigh aspires to be an inclusive city where there is a wide variety of housing for households at different stages of life and at different income levels. Raleigh is a great city and by growing together, we can become even greater. 
Check out why Raleigh and other places such as Minneapolis, Sacramento, Portland are considering or have adopted a law for the Missing Middle, or visit the Text Change Engagement Portal to leave questions and comments. 
Middle Housing Types
Missing middle housing types occupy a middle ground between single-family homes and large apartment buildings. Once common, and still present in the city's older neighborhoods, they have largely been excluded by zoning that favors or mandates single-family use.
Scroll through the slideshow to view missing middle housing examples.
What does TC-5-20 do?
Text changes (TC) are proposed amendments to Raleigh's Unified Development Ordinance (UDO). The UDO contains all the development and zoning rules for the city. It expands missing middle housing options in many residential zoning districts.  
Two-family homes would be permitted in all districts except R-1.

Townhouses, now only permitted in the R-10 district, would be permitted in R-6, as well as R-2 and R-4 when part of a development

includes

significant open space.

Apartment buildings, already permitted in R-10, could be developed on smaller lots and with as few as three units.
This text change or TC-5-20 will allow for more flexible options. For example, currently, in the R-10 district, the minimum lot size for a two-family house is 6,000 square feet. However, density restrictions limit the total number of units to no more than 10 units per acre. This means at least 8,712 square feet of land would actually be needed. Under TC-5-20, a two-family house could be built on the minimum lot size of 6,000 square feet.  
 TC-5-20 also allows townhouses in more places and on smaller sites.
Why should existing neighborhoods allow more housing?
Raleigh is growing. For much of the 20th century, this growth occurred by developing land at the edge of town. Starting in the 21st century, more of Raleigh's growth shifted to already developed areas, as more people want to live in core neighborhoods and near established amenities.
Raleigh's growth policies, adopted in the 2030 Comprehensive Plan, contemplated that growth would primarily occur in mixed-use centers and corridors and that existing neighborhoods would see little change. The result has been a lack of new, family-friendly housing types in these areas. Growth has been high-density apartments covering relatively small amounts of land area (a lot of units in a small amount of space!). At the same time, the neighborhoods near these new developments have become increasingly expensive, which prices single-family housing out of reach for many if not most households. 
By allowing incremental change over a much wider area, growth can be accommodated with a variety of housing types and in different neighborhood settings, meeting the demand for living in these areas at different price points and for households at different stages of life.
Middle Housing and Sustainability
Missing middle housing types are an important means of reaching the city's goal of reducing carbon emissions and other air pollutants. This occurs in two ways.
B

ecause missing middle units share walls or ceilings with other units, they are substantially more energy-efficient than detached houses. According to the Department of Energy, a unit in a two-to-four-unit apartment uses half the energy of a detached house, and a townhouse and a townhouse uses about two-thirds of that amount.

W

hen these homes are allowed in places that are close to jobs and shopping, as this text change would do, they produce shorter car trips and more walking and transit trips than the average home in the region. This means carbon output from transportation, a major source of emissions, is substantially reduced.

 
Commonly Asked Questions
Below are answers to some commonly asked questions about middle housing. 
What guarantee is there that housing built as a result of this text change will be affordable? 
Unless explicitly subsidized and subject to legally-binding affordability restrictions, this new housing will be market-rate—the price or rent will be determined by the willingness of households to pay. Most sellers, even those committed to the idea of housing affordability, generally sell to the highest bidder. If demand in an area is very strong, prices will be high, even for smaller units in multiple dwellings. 
Within the same neighborhood, though, townhouses sell for less than single-family homes, and multi-family condominiums will sell for less than townhouses, as buyers trade-off indoor and outdoor space and privacy for location and access. 
An example is the Yarborough Park development in Mordecai. Primarily a townhouse development, it also includes two single-family lots at the entrance. The single-family homes are assessed at over $600,000—the townhouses behind, about half of that. 
Further, if households cannot find housing they can afford in their preferred, high-demand neighborhood, they will look for housing in other nearby neighborhoods with lower price points. This will drive up prices in these currently affordable neighborhoods, a process we already see happening south and east of Downtown. Absorbing more demand elsewhere is one way to relieve pressure on currently affordable areas.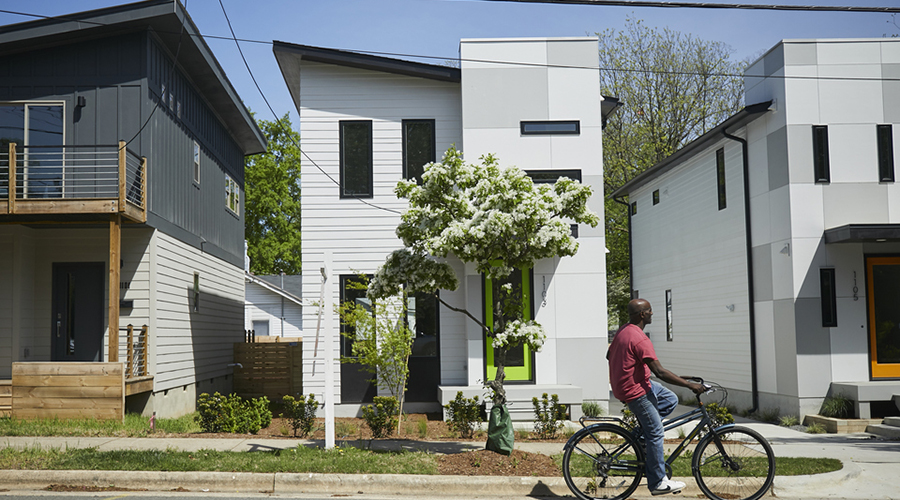 Will this lower the value of my house?
This is a common fear, but there is little evidence for it. The closest thing we have to a natural experiment is the existence of missing middle housing in old neighborhoods such as Oakwood, Boylan Heights, Mordecai, and Cameron Park that predate exclusive single-family zoning. These neighborhoods are among the most valuable in the City. The presence of two- to four-unit buildings and townhouses in these neighborhoods does not appear to have suppressed the value of these areas. Yet, as the Yarborough Park example shows, they provide housing options that are more affordable than single-family.
How will traffic and parking be impacted in my neighborhood?
The incremental increase in housing units allowed by this proposed text change is too modest to generate large amounts of new car traffic in a neighborhood. Off-street parking is still required.
How can this impact the amenities surrounding my neighborhood? 
Many residents value diversity, access to jobs, shopping, and other urban amenities. Neighborhoods with diverse housing types improve the spending power of a neighborhood. They also support more neighborhood-scale retail such as small restaurants or corner stores. More residents and increased commercial activity can also lead to greater need for investment in public amenities like parks and pedestrian friendly streetscapes.
How will this impact neighborhoods with a Neighborhood Conservation Overlay District (NCOD)?
Most NCODs regulate the subdivision of land through minimum and maximum lot sizes, lot widths and depths, and the form and scale of buildings through restrictions on height and setbacks. These regulations will be unchanged under this text change. However, as is the case with current code, anything not regulated by an overlay district is regulated by the underlying zoning.