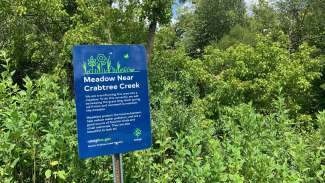 Have you noticed longer grass along Crabtree Creek near the greenway trail on Glenwood Avenue and Crabtree Valley Avenue?
We are transforming this area into a meadow. To do this correctly, we will be keeping the grass long. Then, we'll mow and overseed the meadow to maintain it. We'll do this each spring.
Meadow Benefits
Meadows have many benefits, including preserving the floodplain. Here are a few others: 
Native grass and wildflowers help protect the local ecosystem and provide good habitat for wildlife.

The grassy area and plants soaks up water when it rains and help protect creeks from water pollution.

Seeds from these plants are also a good source of food for birds and small mammals during the winter.

Meadow

s also help keep our air clean and are beautiful to look at too.
We started this process in connection with the Floodplain Creative Education Installation.