---
Benefits
Sustainable construction techniques
Components
---
The City strives to create streets that are great public spaces and sustainable transportation networks. Complete Streets accommodate all modes of transportation, allowing bicyclists, pedestrians, transit users, vehicles, as well as commercial and emergency vehicles to navigate City streets safely.
We listen to what residents have to say about the streets they live and travel on, by including community engagement during the design and construction phase of all our of streets and sidewalks projects.
Benefits
How We Live
Unbiased mobility choices;
Accessible for all regardless of mode of travel and physical ability;
Amenities and infrastructure for all transportation types (i.e. Bike lanes, Bus stops, sidewalks, multi-use paths, vehicle lanes);
Community spaces;
Compliments architectural, economic, community, and land uses patterns throughout the City; and,
Brings together smart technologies and transportation (i.e. smart parking meters, Mobility as a Service (MaaS) systems, and Advanced Traffic Management Systems (ATMS)).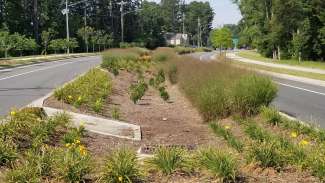 Protect the Environment 
A Complete Street adds green, sustainable features to public streets such as:
Sustainable construction techniques
We encourage City staff, contractors, and developers to use sustainable construction techniques, like;
Warm-mix asphalt, which cuts fuel consumption and decreases the production of greenhouse gases; and,
Recycled materials such as concrete that can be used as base stone under roadway pavement.
Complete Streets also lower transportation costs over time using infrastructure such as roundabouts, which save energy when used instead of traffic lights.
Did you know asphalt is the world's most recycled material?  
Components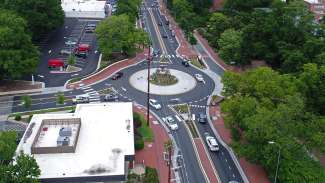 Medians
Sidewalks with setbacks
Technology