Weather Update
Update: Thursday, Aug. 31, 12 p.m.
Based on the National Weather Service's most recent update, the Emergency Management Division is concluding its monitoring efforts for Idalia. Tropical storm impacts have ended across Central NC.
For more up-to-date information, please visit the National Weather Service site.
City Department Updates - Cancellations, Closures, and Notices
Parks, Recreation and Cultural Resources:
updated Aug. 30, 9:30 p.m.
With the closing of Wake County Public Schools on Thursday, Aug. 31, the City is activating its Weatherbound Program.
Read more on the Weatherbound program and register now.
Solid Waste Services:
updated Aug. 30, 4 p.m.
Bulky and Special Load collections scheduled for Thursday, August 31, 2023, will be rescheduled for a later date.
The Raleigh Yard Waste Center will be closed to the public on Thursday, August 31, 2023.
Staff will frequently assess weather and road conditions to determine if routine garbage, recycling, and yard waste collection will be delayed or suspended. Customers who experience delays should leave carts at the curb. The city will not issue warnings or fines during this period.
Communications
Ways to Stay Informed:
Non-emergency Hotline:
The City set up a non-emergency hotline. The number is 919-829-1911.
Twitter:
The City of Raleigh will be updating its Twitter feed: @RaleighGov. This feed features links to any news releases and alerts issued by the City of Raleigh.
Tracking With Stormwater
The Stormwater Management Division is monitoring weather conditions across the city. Monitoring helps us plan for the storm, which can bring intense rain in a short period of time. This is especially helpful since we can't prevent flooding – we can do as much as possible to prepare and reduce impacts.

Flood Monitoring Tools
Stream gauges that track how high water gets in creeks. This helps us see how close water is to the road.
Cameras allow us to see road flooding in real-time. We notify first responders to check or barricade the area when water reaches the road.
Yellow flood warning signs flash when water reaches the road. Use caution when you see these signs flashing.
Safely lower water levels at Lake Johnson before a storm to reduce flooding impacts downstream.
Preparedness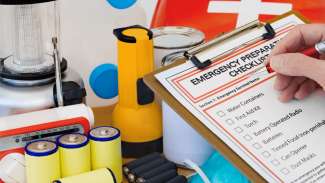 What do I need in an emergency? 
The City is helping residents be connected, prepared, and informed about natural disasters and other emergencies. The City has put together the Ready Raleigh Emergency Preparedness Guide to promote resilience to emergencies at the household and community level. 
The Preparedness Guide has a dynamic table-of-contents. Clicking on a topic in the table will take you to the related content within the document.
Other preparedness resources are listed below in the blue box. 
Ready Raleigh Emergency Preparedness Guide