Weather Update
Hurricane Nicole's path is uncertain, however, there is the potential for severe weather in the Raleigh area on Friday November 11 and into the weekend. The weather could bring heavy rain, high winds, flooding, and isolated tornadoes to parts of Central North Carolina.

For more up-to-date information, please visit the National Weather Service site.
Tweets by NWSRaleigh
City Department Updates - Cancellations, Closures, and Notices
No cancellations or closures at this time.
Tracking With Stormwater
The Stormwater Management Division is monitoring weather conditions across the city. Monitoring helps us plan for the storm, which can bring intense rain in a short period of time. This is especially helpful since we can't prevent flooding – we can do as much as possible to prepare and reduce impacts.
Flood Monitoring Tools
Stream gauges that track how high water gets in creeks. This helps us see how close water is to the road.  
Cameras allow us to see road flooding in real-time. We notify first responders to check or barricade the area when water reaches the road.
Yellow flood warning signs flash when water reaches the road. Use caution when you see these signs flashing.  
Safely lower water levels at Lake Johnson before a storm to reduce flooding impacts downstream.
Preparedness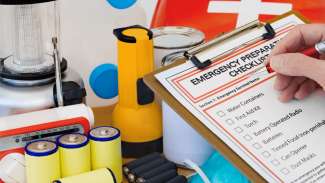 What do I need in an emergency? 
The City is helping residents be connected, prepared, and informed about natural disasters and other emergencies. The City has put together the Ready Raleigh Emergency Preparedness Guide to promote resilience to emergencies at the household and community level. 
The Preparedness Guide has a dynamic table-of-contents. Clicking on a topic in the table will take you to the related content within the document.
Other preparedness resources are listed below in the blue box. 
Ready Raleigh Emergency Preparedness Guide
Communications
Ways to Stay Informed:
Sign up for alerts with MyRaleigh Subscriptions. This Service from the City will be able to provide citizens with better service and access to relevant, critical information by proactively delivering new information through email and wireless alerts.
The City of Raleigh will also be updating its Twitter feed: @RaleighGov. This feed features links to any news releases and alerts issued by the City of Raleigh.