Check out some of the upcoming classes at Sertoma Arts Center and use the links below to register online! For a full list of classes available, visit RecLink.
Preschool
Petite Picassos
Instructor: Michelle Davis Petelinz
Ages: 3-4 year olds    
Fee: $75 resident/ $90 non-resident
Date & Time: Thursdays, Oct. 28 – Dec. 16, 9:30 to 10:30 a.m.
Register for Petite Picassos
Classes will encourage children to create unique works of art as we explore different painting and craft techniques. Each week, we'll read a new book that will inspire our projects. The classes provide preschool prep with a focus on student independence. No parent/guardian participation. Supplies included.
Fibers
Garment Alterations Workshop
Instructor: Brandy Godsil
Ages: 16+ years         
Fee: $35 resident/ $50 non-resident
Date & Time: Saturdays, Nov. 13, 1:00 p.m. to 4:00 p.m.
Register for Garment Alterations Workshop
Learn how to alter clothing to fit you! This beginner-friendly workshop is for those that are looking to learn proper garment alteration techniques. We will go over the basics of fittings, measuring, and sewing alterations. Bring 2-3 items of clothing you would like to work on during the workshop. The instructor will demonstrate proper ways of pinning, altering as well as consult students one on one with their projects.
Painting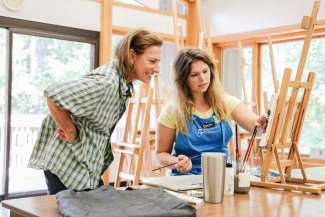 Chinese Brush Painting: Flowers and Birds
Instructor: Alice Zhao
Ages: 16+ years         
Fee: $50 resident/ $65 non-resident
Date & Time: Wednesday, Nov. 3, 12:00 to 3:00 p.m.
Register for Chinese Brush Painting
Chinese brush painting is a traditional art form that shows the beauty of both simplicity and complication of nature, with only ink or with ink and color. Students will learn how to paint flowers, birds, vegetables, and fruits, which are popular brush painting subjects. The instructor will provide step by step demo and individual help. Each person will complete a beautiful painting in every class while practicing basic brush painting techniques. In addition, the students will learn some basic Chinese calligraphy techniques such as the title of the paintings or the artist's name. This course is for both experienced and beginning students. A $5 supply fee is due to the instructor at the start of each class or students can purchase their own supplies. View the supply list
Workshop: Watercolor Weekend
Instructor: Janie Johnson
Ages: 16+ years         
Fee: $120 resident/ $135 non-resident
Date & Time: Saturday and Sunday, Oct. 18-19, 9:45a.m. to 3:30 p.m.
Register for Watercolor Weekend
Experience the joy of watercolor in a casual environment at Sertoma Arts Center. We will explore traditional techniques as well as some experimental techniques. Janie will demonstrate in the morning. We will break for lunch (bring your own) and we will have both of the afternoons to explore and enjoy art. Bring lots of photos, ideas, and enthusiasm. View the supply list
Jewelry
Make Your Own Stud Earrings
Instructor: Caitlin Lewis
Ages: 16+ years         
Fee: $90 resident/ $105 non-resident
Date & Time: Wednesday, Nov. 10 – Dec. 8, 10:00a.m. to 12:30 p.m.
Register for Make Your Own Stud Earrings
Stud earrings are a popular and practical alternative to larger dangly designs. In this class, students will learn how to transform sheet metal and wire into unique stud earrings of their own design. Learn the basics of cutting, shaping, and texturing metal, and see how o solder ear posts. Optional jewelry kits will be available for $25. The kits will provide you with solder, saw blades, drill bits, sandpaper, and a small amount of silver wire and sheet copper to get started on projects.
Yoga
Chair Yoga for Seniors
Instructor: Susan Kilmon
Ages: 16+ years         
Fee: $52 resident/$67 non-resident
Date & Time: Tuesdays, Nov. 2 – Dec.; 14, 1:30pm to 2:30 p.m.
Register for Chair Yoga
This chair yoga class is designed for all levels including seniors and others with varying degrees of mobility. Yoga can help relax tense muscles, stabilize joints, and strengthen the body. Yoga can also improve digestion, circulation, and reduce high blood pressure as well as anxiety. You will learn gentle stretching, breathing techniques, and ways to calm the mind. Before undertaking any exercise program, one should consult a physician. Bring a yoga mat and wear comfortable clothing.