---
Capital Area Greenway Master Plan Update
Closures and Alerts
Trail System Map
Trails
Greenway Parking
Greenway Safety Rules
Safety Public Service Announcements
Improvement Projects
Adopt-A-Trail
RGreenway App
History
Resources
---
COVID-19:
The Capital Area Greenway System is a network of public open spaces and recreational trails for walking, hiking, biking, nature study, and more. The trails connect many of Raleigh's parks and complement their recreational opportunities. A primary goal of the greenway program is to establish a completed network of interconnected trails throughout the city.
Capital Area Greenway Master Plan Update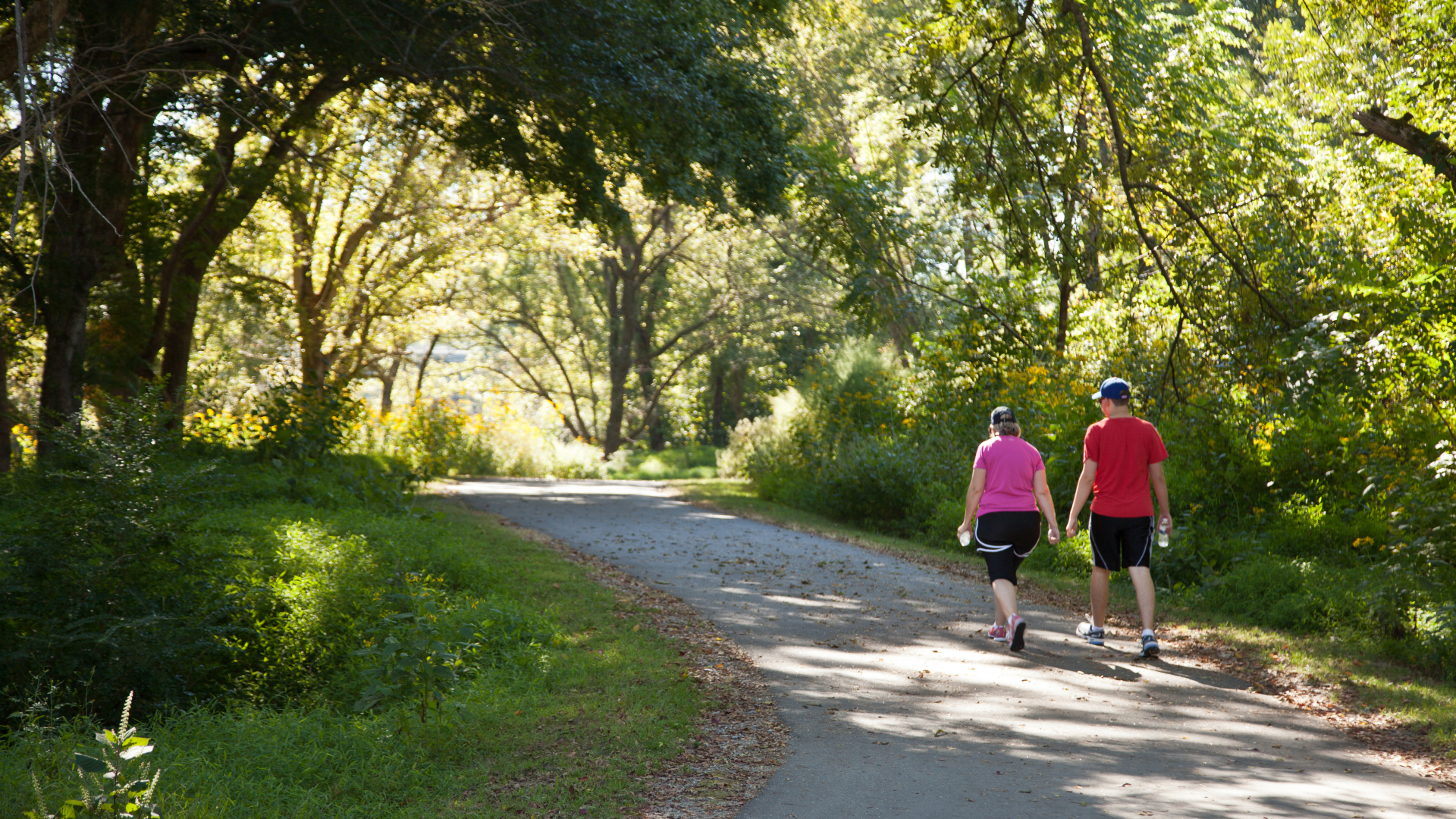 The City of Raleigh's Parks, Recreation and Cultural Resources Department is excited to be updating the Greenway Master Plan. The Greenway Master Plan Update kicked off in January 2020 and is anticipated to be a 12-month long effort, wrapping up in early 2021. This project includes a robust public involvement process consisting of a variety of opportunities for citizens to provide input into the plan. Stay tuned for opportunities to get involved and give your input!
Trail System Map
The Parks, Recreation, and Cultural Resources Department periodically produces an updated map of the Capital Area Greenway System. The Capital Area Greenway System Map shows existing and nearer term planned (less than 5 years) trails, parking areas with trail access, as well as select City facilities. This map is available at no cost and is available at community centers, our Administrative office, located on the sixth floor of the Raleigh Municipal Building, by email or by calling 919-996-3285.
Trails
The Capital Area Greenway system has over 100 miles of trails to explore. There are 28 trails that comprise the greenway system, each with its unique features, destinations, and character.
Trail Name
Mileage
Distance
Abbotts Creek
2.9
Follows Abbotts Creek from the Neuse River Trail to Simms Branch Trail near the intersection of Durant Rd and Cub Trl.
Baileywick
0.6
Connects from Strickland Rd to Baileywick Rd by passing through Baileywick Park.
Beaver Dam
0.8
A natural surface trail located adjacent to Beaver Dam Creek between Wade Ave and Devonshire Dr that passes through Windemere Beaver Dam Park.
Birch Ridge Connector
0.3
A wide sidewalk that connects Poole Rd to the Walnut Creek Athletic Complex (Walnut Creek North Park).
Centennial Bikeway Connector
2.3
A multi-purpose path adjacent to Centennial Pkwy on the NC State University Centennial Campus and on the south side of Western Blvd.
Crabtree Creek
14.6
Follows Crabtree Creek northwest from the Neuse River Trail beginning at Anderson Point Park to Lindsay Dr.
East Fork
Mine Creek
2.5
Follows East Fork Mine Creek upstream from the confluence of Mine Creek to the north side of Strickland Rd.
Edwards Mill Connector
1.3
A multi-purpose path along Edwards Mill Rd from Trinity Rd to Reedy Creek Rd.
Gardner Street
0.7
A natural surface trail that connects Jaycee Park to Isabella Cannon Park.
Hare Snipe Creek
2.3
Follows Hare Snipe Creek from Wooten Meadow Park to Lake Lynn Park.
Honeycutt Creek
3.8
Follows Honeycutt Creek from Raven Ridge Rd to Strickland Rd. The trail section from Raven Ridge Rd to Durant Rd is unpaved and limited to foot traffic only. Also, be aware that seasonal bow hunting occurs on this property. Orange vests will be provided for use during these times.   
House Creek
2.8
Follows House Creek along the I-440 beltline between the Crabtree Creek Trail at Crabtree Valley Mall and Reedy Creek Trail at Wade Ave.
Lake Johnson East Loop
2.8
A loop trail around the east side of Lake Johnson.
Lake Johnson West Loop
2.1
A loop trail around the west side of Lake Johnson.
Lake Lynn Loop
1.9
A loop trail around Lake Lynn.
Little Rock
1.6
Follows Little Rock Creek from the Walnut Creek Wetland Park to downtown.
Marsh Creek
0.3
Follows Marsh Creek through Brentwood Park between Glenraven Dr and Ingram Dr.
Martin Street Connector
0.4
A sidewalk connection between Little Rock Trail at Chavis Way to downtown.
Mine Creek
4.1
Follows Mine Creek north from the confluence with Crabtree Creek to Sawmill Rd.
Neuse River
27.5
Follows the Neuse River south from Falls Lake Dam to Wake/Johnston County Line.
Reedy Creek
5.0
Follows Reedy Creek Rd from Umstead State Park to the North Carolina Museum of Art and Meredith College Campus.
Richland Creek
3.1
Follows Richland Creek from the PNC Arena through Schenck Forest to Umstead State Park.
Rocky Branch
3.8
Follows Rocky Branch from the intersection with Walnut Creek Trail to Reedy Creek Trail on the campus of Meredith College.
Shelley Lake Loop
2.1
A loop trail around Shelley Lake.
Simms Branch
1.7
Follows Simms Branch from the intersection with Abbotts Creek Trail on Cub Trl to Durant Nature Preserve.
Snelling Branch
0.8
Follows Snelling Branch from Mine Creek Trail at Shelley Lake to Optimist Park.
Spring Forest
0.4
A multi-purpose path adjacent to Triangle Town Blvd from Old Wake Forest Rd to Sumner Blvd.
Wakefield
1.4
Follows the power line from Falls of Neuse Rd to Dunard St. Trail is unpaved from London Bell Dr to Dunard St.
Walnut Creek
15.6
Follows Walnut Creek northwest through southeast Raleigh from the Neuse River Trail to Lake Johnson
Greenway Parking
The Capital Area Greenway System is served by over 4,000 parking spaces located in lots and on-street across the City.
When walking or biking isn't an option to reach the greenway, use our parking locations listed here.
Greenway Safety Rules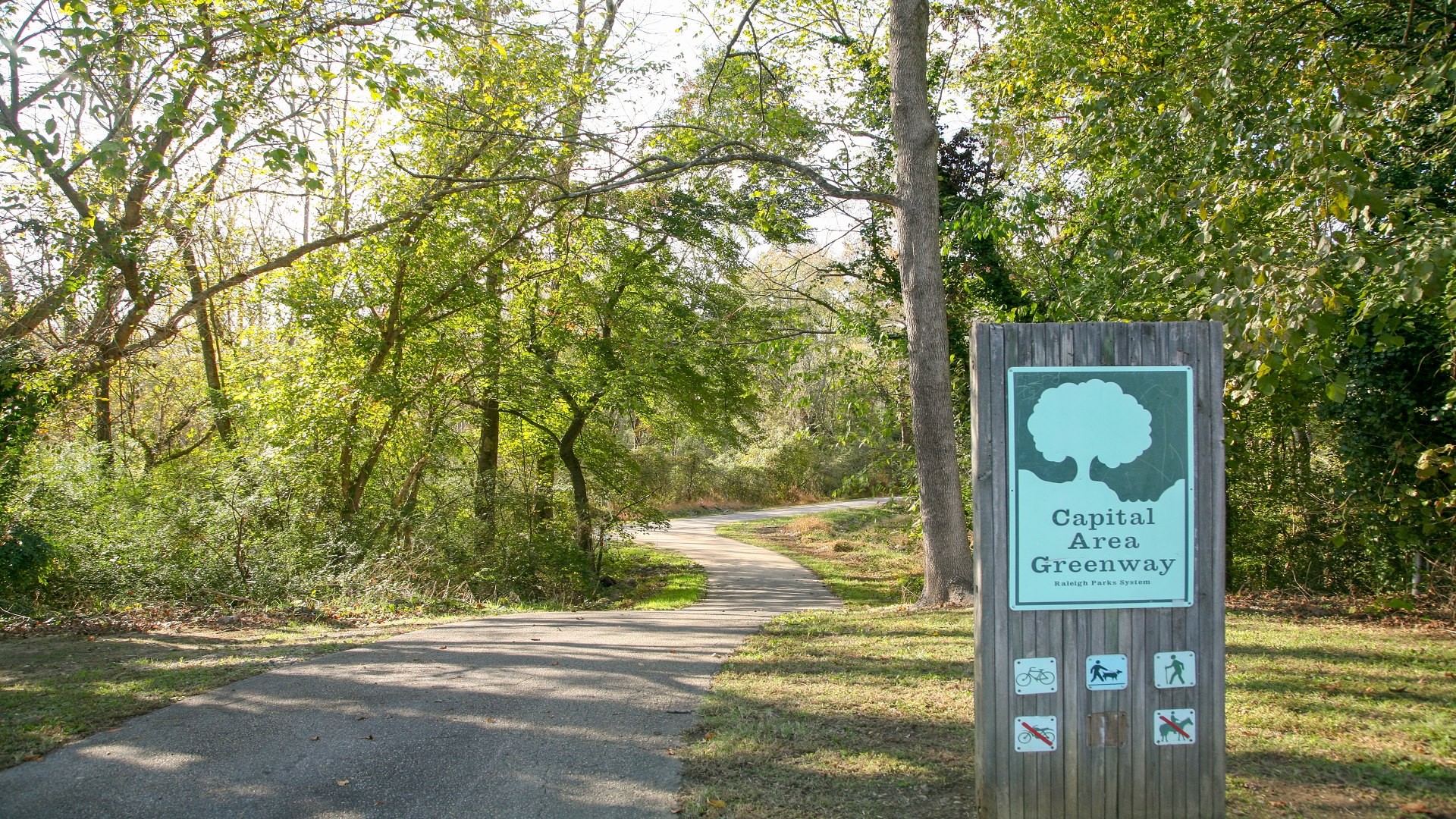 To enjoy Raleigh greenways safely, we recommend you follow not only the rules below but also social distancing best practices outlined here.
Obey posted rules and regulations
Trail hours are from dawn to dusk
The speed limit on trails is 10 mph
Consumption of alcoholic beverages is prohibited
Motorized vehicles are prohibited on greenways
Fires are prohibited on greenways
It is prohibited to remove, destroy, or damage any plant life or property
Pets must be on a leash no greater than 6 feet
Owners must remove pet waste
It is prohibited to kill, trap, or harm wildlife
Swimming in City lakes is prohibited
Horses are prohibited on trails
All trail users under the age of 16 are required to wear a safety helmet when using a bike, skates, scooters or any other non-motorized vehicle
Smoking is prohibited in City parks and greenways
Weapons prohibited except those permitted in NCGS 14-415.23 (RCC Sec. 9-2021)
Camping is prohibited in City parks and greenways
Bicyclists, skaters, and skateboarders should approach pedestrians cautiously and pass on the left
All users, including pets, should remain on the right side of the trail except when passing
Bicyclists, skaters, and skateboarders must always yield the right of way to pedestrians
Patrons should be aware of their surroundings on the trail
The use of headphones is discouraged
Patrons are encouraged to walk or jog with a companion
Hide your belongings, lock your car, and take your keys
Improvement Projects
With more than 100 miles of existing greenway trails and plans to double that mileage over the next 30 years, greenway staff are busy managing capital improvement projects to repave older sections of trail, replace bridges and boardwalk segments as well as add new trail segments to expand the existing system. 
To learn more about on-going Capital Area Greenway improvement projects, visit the Parks and Greenway Projects page and click on "Greenway Projects".
Adopt-A-Trail
The City of Raleigh's Parks, Recreation and Cultural Resources Adopt-A-Trail program provides a volunteer opportunity for interested individuals, businesses and groups to participate in trail cleanup to support the Capital Area Greenway System. The volunteer agrees to maintain the greenway trail quarterly for at least one year. The volunteer must sign an Adopt-A-Trail Agreement and submit quarterly reports to Parks staff.
Volunteers can adopt any available trail segment by viewing our interactive map. Trail segment adoptions are limited to one per volunteer or volunteer group and are on a first come, first serve basis.
RGreenway App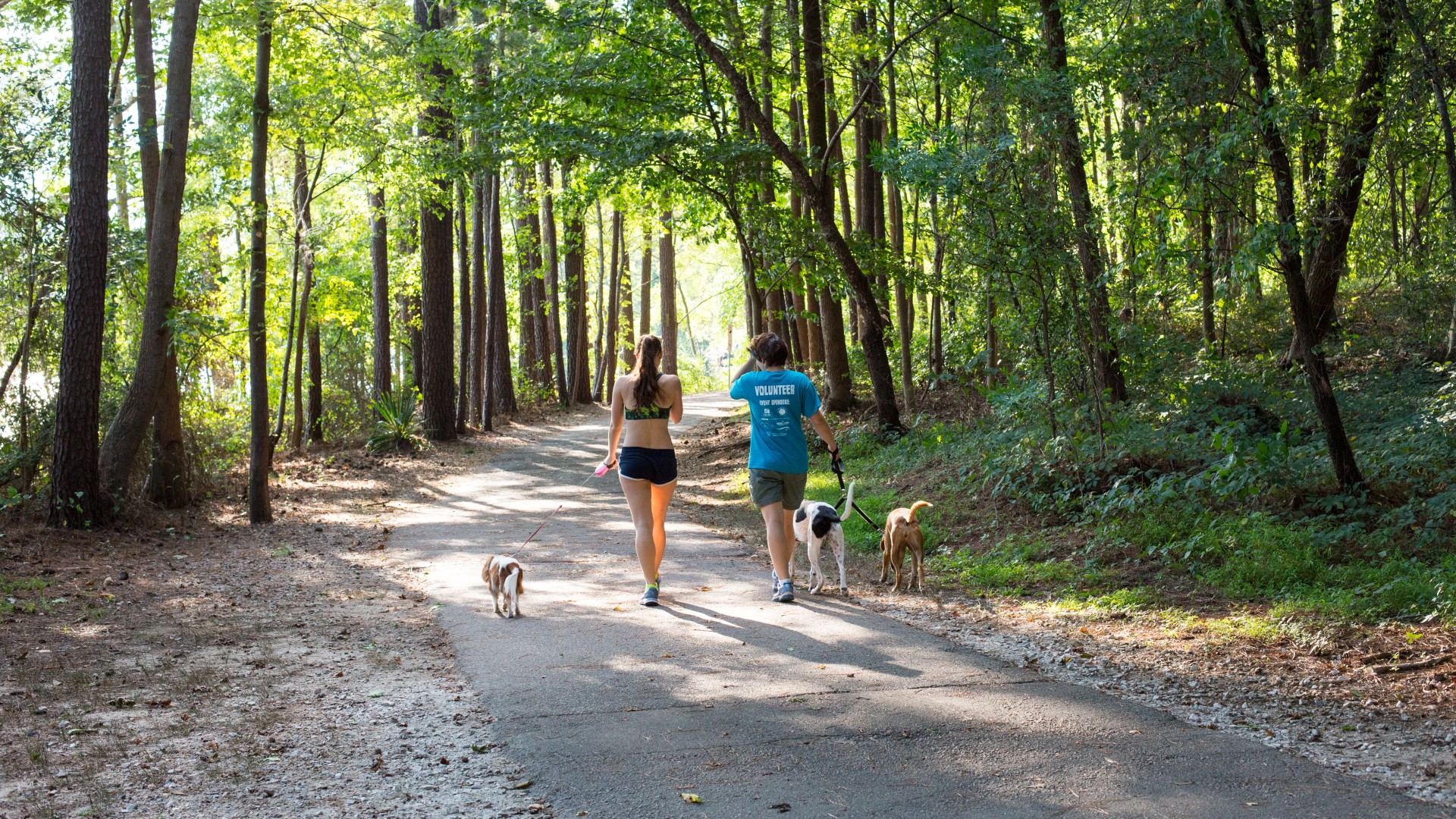 RGreenway, a CityCamp 2012 winner, is an interactive map of greenway trails with additional features such as weather reports, the ability to submit maintenance requests via SeeClickFix, and the ability to track time and distance travelled.
The application is not a product of the City of Raleigh. It was created by the RGreenway team and was built using Open Raleigh GIS Data. The free application is available for mobile devices running the Android and iOS operating systems. 
History
The Capital Area Greenway System became a reality in March 1974 after citizens became concerned about rapid growth and urbanization. The City of Raleigh responded with the Greenway master plan which permitted urban development while preserving Raleigh's characteristic natural beauty. The idea has developed into a 117-mile, 3700-acre system and continues to grow. A major goal of the Greenway Program is to establish a closed network of interconnected trails.