Check out some of the upcoming classes at Sertoma Arts Center and use the links below to register online!
For a full list of classes available, visit RecLink or preview upcoming classes and programs in the Leisure Ledger.
Youth
Game Creators
Instructor: Michelle Davis Petelinz
Ages: 7-11 years old        
Fee: $101 resident/ $116 non-resident
Date & Time: Wednesday, March 8-April 12, 4:00 p.m. to 6:00 p.m.
Register for Games Creators
If you've ever wanted to design your own game for which you make up the rules, the board and all the game pieces, here's your chance! Become a toy maker, and create an entire game, including the logo, box, board, playing pieces and book of rules. Then we'll play everyone's game on the last day of class. Supplies included. 6 sessions.
Teen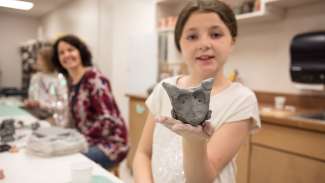 Pottery – Hands on History
Instructor: Ashley Bonner
Ages: 12-16 years old        
Fee: $121 resident/ $136 non-resident
Date & Time: Wednesdays, Feb. 15 – March 22, 4:30 p.m. to 6:00 p.m.
Register for Hands on History
Celebrate Black History Month and Women's History Month with this artist focused Art History class. We will be looking into BIPOC and Women Artists, a bit of their personal histories, and the work that they create. Students will then create their own ceramic artworks inspired or encouraged by the artist they feel most interested in. The class will be divided into lecture and studio times. Artists Featured will include practicing and past artists. Students will be encouraged to do their own research between classes and are welcome to bring their own reference photos. Supplies included.
Bookmaking
Handmade Sketchbooks for Artists
Instructor: Sarah Ann Austin
Ages: 16+ years old        
Fee: $131 resident/ $146 non-resident
Date & Time: Thursdays, March 2 – 30, 1:00p.m. to 3:00 p.m.
Register for Handmade Sketchbooks for Artists
Create one of a kind sketchbooks for many uses. Learn several binding techniques and covering methods used in the Book Arts world. The possibilities are limitless and the Instructor can help you make the book of your dreams. Supplies included. 4 sessions.
Fibers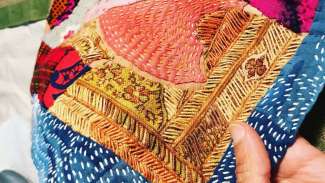 Intuitive Embroidery
Instructor: Patrizia Ferreira
Ages: 16+ years old        
Fee: $97 resident/ $112 non-resident
Date: Thursdays, Feb. 16 – March 9, 10:00a.m. to 12:00 p.m.
Register for Intuitive Embroidery
New to embroidery? Savvy embroiderer, looking for a new approach? This class is for you! In this workshop, students will learn techniques for free-styling with stitches on fabric. I will share with you an intuitive way to start a textile art piece from scratch. How I combine fabrics, colors, textures, and specific stitches. How I go about developing a composition and letting serendipity lead the way. Supply list available on Sertoma's webpage. 4 sessions.
Quilting Basics: Piecing with a Sewing Machine
Instructor: Joy Kelley
Ages: 18+ years old        
Fee: $37 resident/ $52 non-resident
Date: Saturday, Feb. 11, 1:00 p.m. to 4:00 p.m.
Register for Quilting Basics
The goal of this class is to introduce you to quilting and help you discover whether you enjoy it. We will do this by exploring one of the fundamental quilting skills: piecing. Piecing is the process of joining cut fabric pieces together into a quilt block (the basic unit which composes a quilt). If you find you like piecing, you will enjoy the rest of the quilting process as well. Please note this class is focused on learning one of the many necessary quilting skills – we won't be completing a quilt. We will be sewing several different types of quilt blocks focusing on developing your piecing skills. No prior sewing experience necessary. We will be using Sertoma's machines. A $10 supply fee to be paid to instructor at first class covers all you will need for this workshop – no need to buy materials or collect tools. 1 session.
Jewelry
Etching with Ferric Chloride
Instructor: Lauren Markley
Ages: 16+ years old        
Fee: $151 resident/ $166 non-resident
Date: Saturday & Sunday, February 11 – 12, 9:00 a.m. to 5:00 p.m.
Register for Etching with Ferric Chloride
On day one of this two-day workshop, students will learn the basics of etching on copper or brass using Ferric Chloride and a variety of resists, such as stamps, sharpies, or Press-n-Peel Blue Transfer Film. Students will create unique designs or use a pre-printed images. On the second day, once we have some pieces etched, participants will make items such as earrings, cuffs, ornaments, etc., and will learn the basic techniques needed for these. Participants will come away from the class with several samples and at least one finished project. Prerequisite: Beginning Metals at Sertoma or Pullen Arts Centers. $25 kit will be available for purchase at the first class. 2 sessions.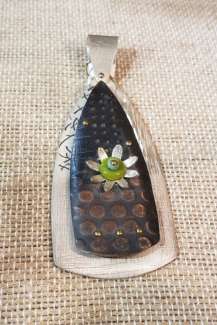 Flat to Fabulous with Deb Karash
Instructor: Deb Karash
Ages: 16+ years old        
Fee: $176 resident/ $191 non-resident
Date & Time: Saturday & Sunday, March 18 – March 19, 10:00 a.m. to 5:00 p.m.
Register for Flat to Fabulous
Improve your skills in this fun 2 day workshop. Add interest to your jewelry designs with surface texture, volume, and layers. Emphasis is placed on planning and finishing techniques in order to achieve a more professional look. You will learn easy soldering and riveting tips, how to incorporate found materials or beads, how to create a rich surface on copper and silver, and how to use commercial findings or make your own. Most students will leave with a finished piece. This is the perfect precursor to Deb's Drawing on Metal workshop which will be offered May 4-7, 2023 at Sertoma Arts Center. A supply list will be sent out to registrants 3 weeks prior to the workshop.
Papermaking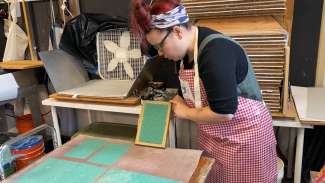 Eastern Papermaking with Plants Emersion
Instructor: Sarah Ann Austin
Ages: 16+ years old        
Fee: $106 resident/ $121 non-resident
Date: Saturday & Sunday, Feb. 11 – Feb. 12
Time: Saturday 10:00 a.m. – 4:00 p.m., Sunday 12:00 p.m. – 5:00 p.m.
Register for Eastern Papermaking
Sarah Ann, local maker and professional papermaking, will teach you how to make paper with your garden plants and other traditional fibers. Students will learn a basic knowledge of the chemistry and science behind sheet formation as well as history on handmade papermaking techniques. Students will take part in a weekend workshop Saturday 10-4pm (1 hour break for lunch) and Sunday 12-5pm. Supplies included. 2 session.