Check out some upcoming classes at Sertoma Arts Center, and use the links below to register online!
For a full list of classes available, visit RecLink or preview upcoming classes and programs in the Leisure Ledger.
Kids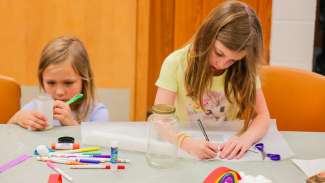 Art- Fantastic Beasts and How to Make Them
Instructor: Michelle Davis Petelinz
Ages: 6-11 years old        
Fee: $101 resident/ $116 non-resident
Date & Time: Wednesday, July 12, 4:00p.m. to 6:00p.m.
Register for Fantastic Beasts
We'll create fantastic creatures, letting our imaginations run wild! We'll build them out of recycled materials, polymer clay, paper, paint, oil pastel, wood, rocks, leaves, fabric, yarn and more. What will you create? A dinodogbat? A flying cathopper with webbed feet? A blue tortoise with spiky hair? Come create with us! Supplies included. 6 sessions.
Teen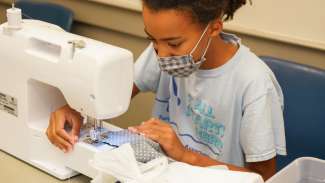 Fibers – Teen Sewing
Instructor: Sarah Ann Austin
Ages: 12-15 years old        
Fee: $91 resident/ $106 non-resident
Date & Time: Tuesdays, Aug. 8 – Aug. 22, 4:30p.m. to 6:30 p.m.
Register for Teen Sewing
Take it up a notch and a button or two… discover somw new sewing techniques and bring a project you'd like to accomplish. If you don't have one, not to worry! Instructor, Sarah Ann, has a library of fabulous books full of great ideas. Students in this class will walk away with a finished project they've brought or chosen to create. Supplies included. 3 sessions.
Fibers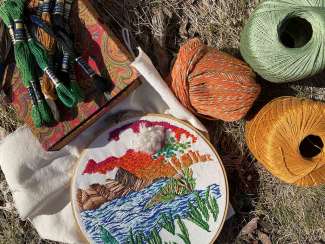 Embroidered Landscapes
Instructor: Patrizia Ferreira
Ages: 16+ years old        
Fee: $73 resident/ $88 non-resident
Date & Time: Wednesdays, June 7 - June 21, 10:00 a.m. to 12:00 p.m.
Register for Embroidered Landscapes
Learn traditional embroidery techniques while learning to paint with your thread. Drawing inspiration from the beautiful grounds around the Sertoma Arts Center, students will draw their own templates on fabric to later embroider on. Each student will develop a unique landscape. Templates will be available, if you prefer to do so. Supply list on Sertoma's webpage and receipt. 3 sessions.
Traditional Japanese Embroidery
Instructor: Pam Reading
Ages: 18+ years old        
Fee: $41 resident/ $41 non-resident
Date & Time: Saturday June 24 or Sunday, June 25, 9:30 a.m. to 4:30 p.m.
Register for Traditional Japanese Embroidery
The technique of Japanese embroidery goes back more than 1,600 years. We use silk and metallic fibers on silk fabrics to produce traditional and modern designs for framing. Instruction follows an orderly progression of steps with a new design at each level. This workshop is open to beginners as well as current students at all levels. Current students should bring projects they are working on. New students are required to purchase kit and supplies from the instructor, payable at first class. Two options are available, see the supply list on Sertoma's webpage for details and cost. Instructor needs one month's notice to order supplies for new students. Additional supplies will be available for purchase from instructor in class. New students are highly encouraged to contact the instructor for more information before enrolling. 1 session.
Dance
Line Dance Marathon Favorites
Instructor: Jackie Wheeler
Ages: 16+ years old        
Fee: $15 resident/ $15non-resident
Date & Time: Saturday, June 24th, 12:30 p.m. to 4:30 p.m.
Register for Line Dance Marathon
Come out and learn selected popular dances from the 2023 Line Dance Marathon held in early June. This workshop requires experience with improver to intermediate line dances. A list of planned teaches will be available prior to the workshop.