---
Project Details
Timeline
About the Artist
---
Project Details
Artist Corey Lancaster was commissioned by the City of Raleigh to carve the newest Nash Square squirrel, fondly named Berkeley, from a 90 foot willow large oak that was removed from the park in 2019. The 85 inch oak was thought to be about 120 years old, but age and disease were starting to cause the tree to lose limbs during storms. The tree was known as being the widest tree in downtown Raleigh and for how its roots came over the sidewalk on Martin Street, where it stood opposite The Berkeley Café. 
---
My objective when creating art is to capture an idea or design that either the customer had envisioned in their mind or one they weren't capable of seeing without my help.  It is an exceptionally rewarding feeling to think that I'm creating something that will be cherished and even passed down through a family and invokes happiness whenever they look at it.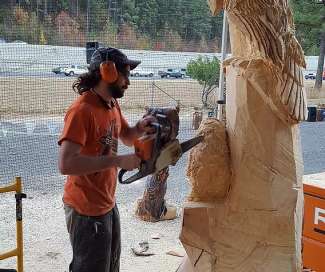 Corey Lancaster
Corey Lancaster set out to hike the 2,180 mile Appalachian Trail in 2012 to find himself after spending four years pouring 70 hours a week into his job managing a restaurant.  While hiking the trail, Corey had a realization that he was spending his time doing something that he liked, but not something he wanted to do forever.  After spending six months often alone with his thoughts, he carved out a new goal, and this one involved a few chainsaws.  Corey left his job in April 2013 to become a chainsaw artist and to open the Boon Hill Gallery located in Princeton North Carolina with his grandfather.
Learn more about Corey Lancaster
---