---
CALEA
ACE
APCO Project 33
Top 10 Call Center
---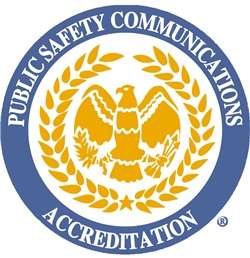 The Raleigh-Wake Emergency Communications Center prides itself in achieving national recognition through the various accrediting agencies. We are only 1 of 4 nationwide to hold all three accreditations. These accreditations provide a mechanism to measure the 9-1-1 center and its performance. Ultimately the goal of the 9-1-1 center is to provide the best service to the citizens and responders we serve in Wake County.
CALEA
Commission of Accredited Law Enforcement Associations (CALEA)
The Raleigh-Wake Emergency Communications Center is asking the public to provide feedback on how the center complies with industry standards and delivers public safety services. The deadline to provide feedback is July 31. Asking residents for comments is an annual requirement related to the center's accreditation process. To provide comments on the Raleigh-Wake ECC, please visit the Accreditation Public Comment Portal. 
The Raleigh-Wake 911 Center is a CALEA Accredited Communications Center as of November 2007. The purpose of the accreditation program is to promote superior public safety communications services and to recognize professional excellence. This is accomplished by standards derived from the best practices of professional public safety communications agencies, and then implementing a process that verifies that the standards are met.
The 9-1-1 Center is one of 4 centers nationwide to have obtained accreditation from the Commission on Accredited Law Enforcement Association (CALEA).
ACE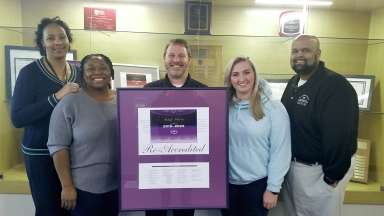 Accredited Center of Excellence (ACE)
In 2007, the center received it's ACE accreditation through the International Academy of Emergency Dispatch (IAED) for emergency medical dispatching. An accredited agency must meet 20 points of accreditation which range from how an agency processes an incoming medical call to having on-going continuing education to having an oversight committee to ensure compliance. In addition to the 20 points, an accredited center must audit a percentage of all medical calls. The center's overall score must be maintained at a minimum of 95%. Once accredited, a center must maintain the 20 points achieved in the original accreditation and maintain the minimum compliance score of 95% for emergency medical dispatching.
APCO Project 33
Association of Public Safety Communications Officials Project 33 (APCO Project 33)
APCO Project 33 Agency Training Program Certification is a formal mechanism for public safety agencies to certify their training program as meeting APCO American National Standards (ANS.) The standard specifies the minimum training requirements of call takers and telecommunicators of law enforcement, fire service, and emergency medical services assigned to the public safety telecommunicator function.