---
Fire Pits and Open Burning
Home Fire Safety
Inspections and Permits
Public Outreach and Education
Fire Protection System Emergency Repairs
Report a Violation
Compliance
Fire Watch Duties
---
Fire Pits and Open Burning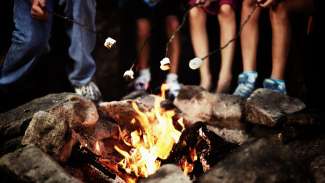 It is illegal to burn trash or debris in the City of Raleigh. The only types of fires that are permitted are fires used for heating or cooking. These allowable fires cannot exceed three feet in height or two feet in diameter. The North Carolina Department of Environment and Natural Resources prohibits the burning of leaves or yard debris where curbside collection is available. The City of Raleigh offers curbside collection of yard waste.
While the Raleigh Fire Department discourages open burning, if you do decide to have a small warming fire please be sure to take the following steps:
Make sure the fire pit or fire is 25 feet from any structure;
Make sure the fire is constantly attended;
Have a method for extinguishment such as a fire extinguisher or water hose available for immediate use; and,
Be aware that fire code officials can order certain fires to be extinguished, such as those that create objectionable odors or smoke or when local conditions make these fires hazardous.
Read more about Fire Pits and Open Burning Safety.
2018 North Carolina Fire Code 
307.4.2 Recreational fires.
Recreational fires shall not be conducted within 25 feet (7620 mm) of a combustible structure. Conditions that could cause a fire spread within 25 feet (7620 mm) of a structure shall be eliminated prior to ignition. 
City of Raleigh Ordinance
Sec. 7-2005. -Pre-collection practices, removal of rubbish, weeds and other refuse.
No person shall burn leaves, shrubs, tree limbs, and the like on the streets or sidewalks or on private property except upon special permission of the Fire Code Official.
Home Fire Safety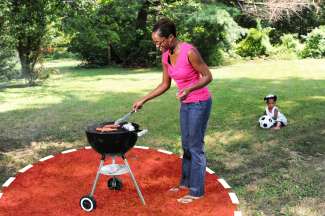 Can I grill on my patio? 
From the 2018 Fire Prevention Code: 308.1.4
Open-flame cooking devices: Charcoal burners and other open-flame cooking devices shall not be operated on combustible balconies or within 10 feet (3048 mm) of combustible construction.
Exceptions:
One- and two-family dwellings. 
Where buildings, balconies and decks are protected by an automatic sprinkler system. 
Liquefied-petroleum-gas-fueled cooking devices. LP-gas burners having an LP-gas container with a water capacity not greater than 2.5 pounds [nominal 1 pound (0.454 kg) LP-gas capacity]
Can I have a portable outdoor fireplace?
307.4.3 Portables outdoor fireplaces: 
Portable outdoor fireplaces shall be used in accordance with manufacturer's instructions and shall not be operated within 15 feet (3048) of a structure or combustible material.
*Exception: Portable outdoor fireplaces used at private residential one- and two-family dwellings.
How can I learn more about home fire safety issues? 
Please visit our Fire Safety Tips web page.
How can insurance companies get information for my homeowner's policy?
View directions on how to find the insurance class for property.
How can I dispose of household generated hazardous materials? 
Household hazardous waste can adversely affect everyone's quality of life. That's why it is important to properly dispose of these items. Wake County operates permanent collection centers on a year-round basis for all Wake County residents to drop off hazardous materials.
Inspections and Permits
How can I get a copy of a fire report? 
The City of Raleigh Fire Department provides inspection and incident reports available for free online.
How can I request a fire inspection? (e.g. day care, group home)
Complete our Fire Watch / Inspection Request form.
Who is doing my fire protection inspection for new construction-related permitted job? 
Please call 919-857-4412 after 7:45 a.m. and have your permit number ready.
How can I obtain a permit for using pyrotechnics? 
You can obtain a pyrotechnics permit and site inspection from the City of Raleigh Office of the Fire Marshal. For more information, visit the Permits Applications, Packets, and Forms web page.
Public Outreach and Education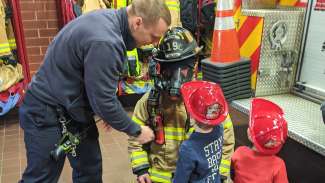 How can I schedule a fire station tour or have a fire engine visit my location?
Please use our Educational Presentation Request / Station Tour Request form and someone will contact you to confirm a date.
How can I request a fire prevention presentation? 
Please use our Educational Presentation Request / Station Tour Request form.
What are other services offered by the Fire Department? 
Car seat installation: We do not offer this service. Please contact Wake County Human Services for an appointment for this service.
Smoke alarms: You may stop by your local fire station and, if the station has them available, they will give you one at no charge.
Volunteer: We have only paid personnel and do not accept volunteers.
CPR instruction: We do not offer this service, please contact your local Red Cross, Wake County Human Services, or other local organization for more information.
Fire Extinguishers: For recharging or refilling please search on the internet for your local fire extinguisher recharge company.
Reports and Records: Records that are not public and are not available on our website pertaining to incidents/medical treatment/investigations will only be given out with a subpoena.
Flammable/Combustible Liquids (tank removals): Please contact Development Services Customer Service Center at 919-996-2495.
Fire Protection System Emergency Repairs
If you need non-residential emergency repairs for any fire protection systems, please fill out the Non-Residential Permit Application and email your request. View information on how to get a non-residential permit. Continue to perform the work, obtain the applicable permit, and call for an inspection for code compliance. If further assistance is needed, please contact New Construction Assistant Fire Marshal at 919-996-5972.
Report a Violation
How do I report information about a possible arson?
Contact the City of Raleigh Fire Department Fire Investigation office at 919-996-5188 or email the information.
How can I report a fire hazard?
Please complete the Fire Hazard Report Form.
How can I report possible fire code violations in a business? 
Please complete the Fire Hazard Report Form.
Are fireworks allowed in the city of Raleigh? 
Yes. However, Class 1.4G consumer fireworks are limited to what is described in General Statute 14-414. For the full text of the General Statute, please visit the North Carolina General Assembly.
Compliance
What fire code does Raleigh use and how can I obtain a copy? 
The City of Raleigh enforces the International Fire Code with amendments through the NC Building Code Council. To view the fire code, visit the NC Department of Insurance Office of State Fire Marshal website. 
How many fire extinguishers are required for my building? 
Generally speaking all commercial buildings in the City of Raleigh (including multi-family apartments) are required to have a minimum 2A10BC fire extinguisher(s) within 75 feet of all points of the building. Also one 2A10BC extinguisher can only serve a maximum 3000 square foot area. There are also other operations and buildings that will have different requirements. If you would like assistance please complete our Fire Watch Request form.
How often am I required to conduct a fire drill? 
North Carolina State Fire Code: Frequency-Required emergency evacuation drills shall be held at intervals specified in the table below or more frequently where necessary to familiarize all occupants with the drill procedure.
| | | |
| --- | --- | --- |
| Group Occupancy | Frequency | Participation |
| Group Assembly | Quarterly | Employees |
| Group Educational | Monthly* | All Occupants |
| Group Institutional | Quarterly on each shift | Employees** |
| Group R-1 (Hotel/Motel) | Quarterly on each shift | Employees |
| Group R-4 (Residential) | Quarterly on each shift | Employees** |
*The frequency shall be allowed to be modified in accordance with Section 408.3.2
**Fire and evacuation drills in residential care assisted living facilities shall include complete evacuation of the premises in accordance with Section 408.10.5. Where occupants received habilitation or rehabilitation training, fire prevention and fire safety practices shall be included as part of the training program.
What companies are certified to conduct flow test in the City of Raleigh?
Fire Watch Duties
The City of Raleigh Fire Marshal or designee may require a building owner to provide a fire watch if a fire protection system fails, if there are an excessive number of accidental activations or nuisance alarms, or a special circumstance or event. Personnel to conduct the fire watch are determined by the building owner. For more information see Fire Watch Requirements and Fire Watch Log.