---
Program Descriptions
Steps for Buying
Homebuyer Education
---
Are you in the market for an affordable home? 
Our homebuyer assistance programs offer zero-interest loans to help with down payment and closing costs or a gap in financing. The loans are deferred; no payments are due until the home is sold or the owner no longer uses the home as their primary residence. Please note that conditions may apply. 
To get started, watch the informational video, read the descriptions of our two programs, and see the steps for buying below!
Note that if you qualify for one of our programs, you will likely also qualify for other homebuyer programs such as those offered through the NC Housing Finance Agency. Our approved lenders can help you learn more about other programs you may qualify for and how to layer multiple programs to make homeownership a reality! This comparison chart of local homebuyer resources may help guide your lender in connecting you with relevant programs.
Program Descriptions
Both of the City's homebuyer assistance programs are for first-time homebuyers earning no more than 80 percent of the area median income (see the current income limits in step 1 under "Steps for Buying"). Below are descriptions and guidelines for the City's two programs: the traditional Homebuyer Assistance Program and the new Enhanced Homebuyer Assistance Program funded through the 2020 Affordable Housing Bond.
Homebuyer Assistance Program
Eligible properties: Any single-family home within Raleigh city limits
Maximum assistance: $45,000
Maximum home purchase price: $371,000
Enhanced Homebuyer Assistance Program
Eligible properties: Any single-family home within targeted geographic areas in Raleigh
Maximum assistance: $60,000
Maximum home purchase price: $450,000
Deed restrictions: Homes purchased through this program will subject to a 10-year deed restriction limiting the sales proceeds that go to the owner if they sell the home within the 10-year period
Homebuyer Education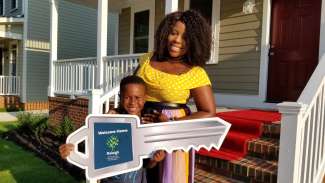 Don't feel ready to start the home-buying process? Home-buying courses are offered by local agencies to help you prepare. Sign up for one today!