---
Steps for Buying
Homebuyer Assistance
Homebuyer Education
---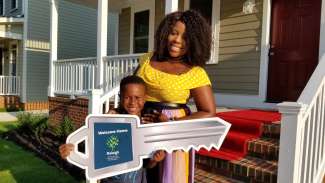 Are you in the market for an affordable home? The first step is to learn about the home buying process.
The City requires that you attend a Homeownership Class where you will earn a certificate that allows you to participate in the Homebuyer Program. The City of Raleigh contracts with DHIC, Inc. to provide homeownership and credit counseling. For more information, contact DHIC at 919-832-4345.
Our Homebuyer Program offers low-interest loans up to $20,000 to help with down payment and closing costs or a gap in financing. The principal balance is reduced on a set schedule and is forgiven if the owner continues to live in the residence for 20 years. Please note that conditions may apply. To get started, please contact the Community Development Division at 919-996-4330. 
East College Park
You may also qualify to purchase a subsidized home in East College Park. To qualify, your household income must fall at or below the income limits below (as defined by HUD federal guidelines).
| Income Limit | Family of 1 | Family of 2 | Family of 3 | Family of 4 | Family of 5 | Family of 6 | Family of 7 | Family of 8 |
| --- | --- | --- | --- | --- | --- | --- | --- | --- |
|   |  $53,600 | $61,250 | $68,900 | $76,550 | $82,700 | $88,800 | $94,950 | $101,050 |
Steps for Buying
Determine if you qualify to buy an affordable (HUD-defined) or market-rate home.
Visit a lender to get pre-approved for a mortgage to buy a home.
Complete a homeowner education course. 
Review home designs then contact the builder associated with your preference.
Please refer to the Homebuyer Assistance flyer for more information. 
Homebuyer Assistance
Learn how the City's programs and other resources could assist you in purchasing a home.
Homebuyer Education
Don't feel ready to start the homebuying process? Homebuying courses are offered by local agencies to help you prepare. Sign up for one today!