---
Macaroni Surprise Recipe
---
In each issue of Raleigh Fire News, we'll disclose our firefighters' favorite dishes and let you know what you need to do to eat like a firefighter! This recipe is not station specific, but it has stood the test of time throughout the entire Raleigh Fire Department. Firefighters use several variations of the recipe; this is just one of the many. For a quick, easy, and filling meal prepare and enjoy!
Macaroni Surprise Recipe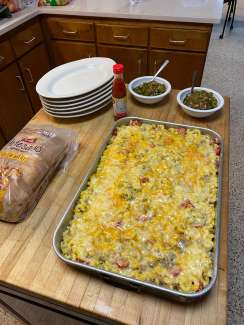 Ingredients:
2 pounds elbow macaroni
2 cans Campbell's Cheddar Cheese Soup
1 large bag of Carolina Packers Bright Leaf Hotdogs
1 pound of Bass Farm Hot Sausage
2 cups of shredded sharp cheddar cheese
Directions:
Brown sausage in a skillet, drain and set aside.
Cut hot dogs into quarter-inch slices and cook in a skillet until done (dark brown on both sides of the slices). Set hotdogs aside once cooked.
Prepare the macaroni noodles as directed, drain, and place back in the pot.
Add the two cans of cheddar cheese soup, the sausage, and the hotdogs to the cooked macaroni and mix well.
Place the mix into a well-greased casserole dish evenly and sprinkle a liberal amount of the shredded cheese on top.
Place the dish into the oven which should be preheated to 350 degrees F.
Leave the dish in the oven at 350F until cheese on the top has begun to melt to desired coverage.
Once cheese has melted to desire, remove, and serve!
Note: Some people enjoy serving the dish with Texas Pete and even with sautéed peppers and onions. These are extras but may be something you choose to try! 
This recipe is part of the "Fire News" quarterly newsletter. Subscribe to receive future editions and view the Spring 2022 edition.