Raleigh Department firefighters share their favorite dishes and let you know what you need to do to eat like a firefighter! This chicken recipe comes from Captain Grant Williams at Fire Station 1.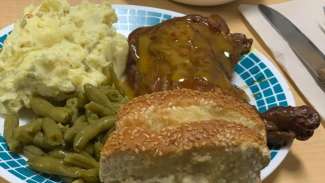 Grant's Yellow Chicken Recipe
Ingredients:
10 lb. bag of chicken quarters
2 cups of plain yellow mustard
½ cup of apple cider vinegar
½ cup of water
3/4 cup of dark brown sugar
2 tablespoons of crushed red pepper
2 tablespoons of onion powder
2 teaspoons of table salt
Directions:
Mix all listed ingredients, except chicken.
Bring ingredients to a boil.
Continue to stir.
As soon as sauce begins to boil, turn down to a simmer.
Continue to stir.
Sauce should thicken and have a light brown/yellow shade.
Grill chicken at 350 degrees Fahrenheit for 45-60 minutes.
After the 30-minute mark, begin applying sauce to chicken.
Twist leg to see if chicken is done; leg bone should twist easily.
This recipe is part of the "Fire News" quarterly newsletter. Subscribe to receive future editions and view the Summer 2021 edition.