---
Raleigh Digital Connectors
Raleigh Digital Ambassadors
---
The Digital Inclusion Unit provides community-based opportunities that use technology as a catalyst to foster creativity and improve the quality of life for citizens of Raleigh. Through diverse programs and initiatives, the unit has trained over 3,800 residents in Digital Literacy efforts, provided over 1,000 computers to underserved residents, and collectively completed over 10,000 hours of volunteer service so far.
Raleigh Digital Connectors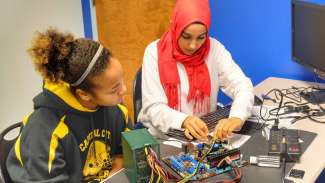 Digital Connectors is a nationally renowned program, provided by the City of Raleigh, that provides technology and leadership training for youth, ages 14-18. 
The program offers 15 selected young leaders a special opportunity to serve their communities. During a nine-month volunteer and internship commitment, the program focuses on Digital Inclusion efforts that help bridge the digital divide. The participants will also expand and apply their knowledge through five (5) learning modules. Program sessions are held twice a week beginning in September and going through mid-May. Service opportunities are coordinated and scheduled throughout the tenure of the program.
Now Accepting Applications!
Do you enjoy learning about technology? Do you like to teach others about using computers and the Internet? Do you want to make a difference in your community? If so, apply to become a Raleigh Digital Connector!
The application has been extended to Saturday, July 23. Please complete the form below and email it to Bradley.Upchurch@raleighnc.gov.
Program Details
Learning Modules 
Skills
Benefits 

In an innovative technology room, virtually and out in the community, Raleigh Digital Connectors will complete five (5) interactive modules of learning: 

Leadership
Civic Engagement 
Financial Literacy 
Professional Development
Community Impact Project 

Through these modules, participants will learn and explore skills in: 

Technology 
Personal Development & Self Awareness
Digital Literacy 
Diversity & Inclusion
Entrepreneurship 
Community Mapping 
Coding 
Financial Literacy 
Workforce Development 
Project-Based Learning 
Teaching and Facilitation 
Communication 

Gain practical knowledge through five (5) modules of learning and 12 core competencies 
Receive an Ever-fi Financial certification 
Lifelong connections and friendships 
A deeper and more engaged understanding of their community 

Opportunities to become a young leader and change maker

$500 Stipend (upon successful completion)
New Laptop Computer (upon successful completion)
2020-2021 Project: Self-Guided Tours and Interactive Maps
The 2020-2021 Raleigh Digital Connectors class collaborated with the Greater Raleigh Convention and Visitors Bureau to create maps that showcase some of Downtown Raleigh's most visited attractions, historic sites, and beautiful parks. Each tour was developed and narrated by Digital Connectors. Attractions, descriptions, audio files, and art direction for the maps were all led by program participants. 
Looking for things to do in Raleigh? View each of the tours here.
Raleigh Digital Ambassadors
The Raleigh Digital Ambassadors program is a selected group of dedicated and engaged alumni of the Raleigh Digital Connectors. Ambassadors serve their communities through a year-long commitment to serve their city through Digital Inclusion efforts.
These efforts can include projects such as Digital Literacy Trainings for underserved residents and STEM Education Initiatives at local community centers. In addition to a volunteer commitment, Ambassadors meet once a week either virtually or at the Raleigh Pathways Center. This program allows participants to receive personal and professional  growth opportunities that aid them in becoming more passionate, independent, and civically engaged young adults.
Digital Inclusion Resources