---
City of Raleigh IT hosts 2023 GIS Day activities
2023 Map Contest Winners
Learn more about 2023 GIS Day
---
City of Raleigh IT hosts 2023 GIS Day activities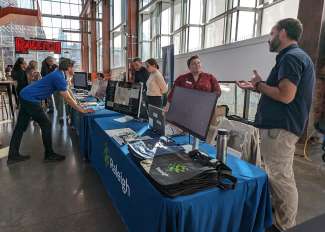 The City of Raleigh's Information Technology Department hosted GIS Day activities at the Raleigh Union Station on Nov. 7 from 8:30 a.m. to noon. Visitors were able to view examples of how GIS is used by our state and local governments with hands-on learning opportunities using GIS technologies. 
Thank you to all who participated with information tables, presentations, entering the map contest, and utilizing networking opportunities.
Thank you to the Morning Presenters
Thank you to our following morning presenters 
Mark Wittenberg, City of Raleigh CIO
G.D. Mundy, Kernersville Police Department
 Bill Shroyer, Wake County
Ryan Cooper, WCPSS
Thank you to Table Participants
4-H Youth Development

City of Raleigh Engineering Services, Stormwater

City of Raleigh Housing and Neighborhoods

City of Raleigh Information Technology

City of Raleigh Parks and Recreation

City of Raleigh Planning and Development

City of Raleigh Public Utilities

NC Department of Transportation Rail Division

NC Department of Information Technology Center for Geographic Information & Analysis

Raleigh Department of Transportation

UNC Geography Department

Wake County Community Services

Wake County GIS

Wake County Public Schools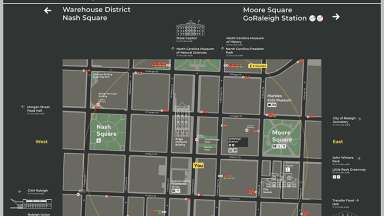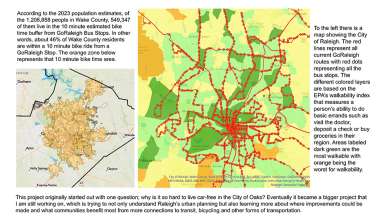 2023 Map Contest Winners
This year's GIS Day celebration at the City of Raleigh included an original map competition.
Congratulations to the 2023 winners
Professional map winner - "Welcome to Raleigh - Reimagining Pedestrian Wayfinding" by Dylan Bruchhaus
Student map winner - "Researching car-dependency and land use patterns in Raleigh, NC" by Brandon Estevez
To be eligible, map submission had to be an original work and contain elements generated using GIS-based methods.
Map entries were displayed at Raleigh Union Station during the GIS Day celebration on Nov. 7. The winner of the map contest received the highest number of votes from GIS Day attendees who voted on the quality, content and creativity of the map entries.