---
Who May Attend
Register
Class Schedule, Location
---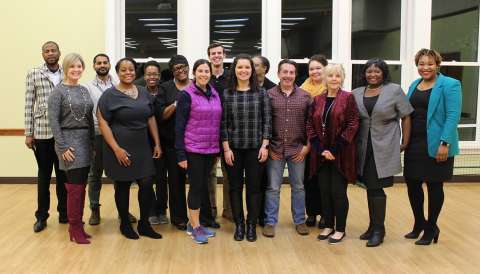 Citizens Leadership Academy is a series of classes offered each spring and fall to help you develop your skills as a neighborhood or community leader. Many graduates of the Citizens Leadership Academy go on to leadership roles in neighborhood organizations and serve on City of Raleigh boards and commissions.
Who May Attend
Citizens Leadership Academy is free of charge for residents of the City of Raleigh and its area of extraterritorial jurisdiction. The program is not open to residents outside of the City of Raleigh.
Class size is limited to 25 to encourage participants to interact with each other and with instructors.
Register
Applications are now being accepted for the Spring 2021 class. Don't wait to sign up as space is limited.
Once your application has been submitted you will receive a letter from Neighborhood Enrichment Services Division staff regarding the status of your application. Your application will be considered in the order it is received. You may apply online or download an application to submit by mail.
Attendance Policy
You must complete a minimum of 80 percent of the nine classes to receive the Academy Leadership Plaque. The plaque will be presented in a separate recognition ceremony for all the graduates of the program.
Although, the overall concept of the Citizens Leadership Academy program is based on Community Development, I strongly encourage anyone interested in leadership skills to take this course. These are skills that you can take back to your workplace, community, neighborhood, even use in your personal life. If you are thinking of becoming involved in community service in any way, [then] CLA IS a must!

Clara Davis
Class Schedule, Location
The Spring 2021 Session will be held virtually 6:00 p.m. to 8:00 p.m. on Thursdays through Zoom.
March - 4, 11, 18, 25
April - 1, 8, 15, 22, 29
May - 6
Each Citizens Leadership Academy session consists of nine classes focused on three major themes:
Leadership development;
Communication dynamics; and,
Asset-based community development.