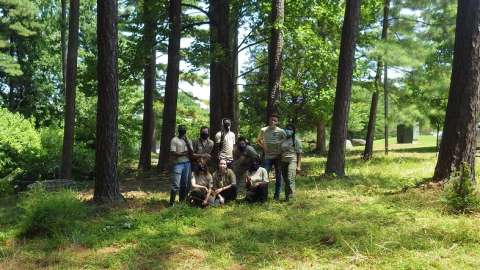 For four weeks this summer, eight teenagers from the Raleigh area gained work experience in natural resources and environmental fields as part of the Youth Conservation Crew (YCC) with the Conservation Corps of North Carolina's summer program. This program works with public land managers across North Carolina to help accomplish some of the maintenance work that is required to keep public lands available and in good condition for users. This summer's crew calls Walnut Creek Wetland Park in Raleigh its home base, from which they journey to parks and greenways across the city to learn and work alongside urban foresters, stormwater professionals, invasive species management teams, and other park staff. The participants gain experience using specialized equipment while completing projects such as trimming low-hanging limbs from trails, clearing invasive plants, and removing litter from local streams. 
One of the most important components for the program is meeting professionals in the field and learning about career opportunities in natural resources. The youth network in fields they may have a future interest in and can have candid, small group conversations with these professionals. While the skills learned will provide vital, hands-on experience, the mentoring provided by professionals is crucial for guiding the youth toward success in their future careers.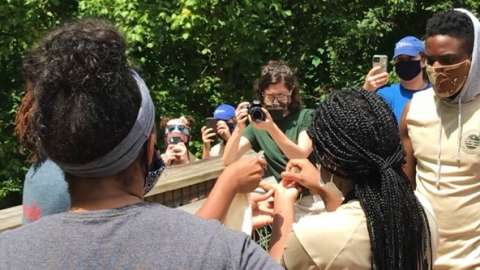 The program also offers more fun opportunities provided by partners outside of City staff. The Youth Conservation Crew had a private bird banding demonstration at Walnut Creek Wetland Park, offered by three graduate students from North Carolina State University. Lauren Pharr, Murry Burgess, and Deja Perkins are studying bird ecology and behavior in the College of Natural Resources at NCSU. They were all also instrumental in the implementation and success of Black Birders Week in June of this year. These young professionals provided live demonstrations of how scientists and biologists study birds. Deja Perkins led the participants on bird walks through the park, showing the youth techniques to identify bird species by their unique songs and calls. Then the youth participated in collecting bird observation data using eBird, a community science platform run by Cornell University's Lab of Ornithology. 
Lauren Pharr and Murry Burgess set up the demonstration for bird banding to give the youth an up-close look at the birds they were studying. Bird banding is a technique for researchers to capture birds humanely, by allowing birds to fly into a net made of very fine threads, so fine that the birds are unable to see it. Researchers then gently remove the bird from the net, and carefully collect information on it, such as species, sex, weight, wing length, and body condition. They then loosely attach a small metal ring engraved with a unique ID number that can be traced in the future. The bird is then released unharmed, in a matter of minutes. During the demonstration, the students and YCC caught and released two house finches, one male and one female, conveniently providing an example of how birds can look different depending on their sex. The three graduate students were happy to answer all questions the youth had before, during, and after the demonstrations, and were encouraged by the hope that their time with the youth may lead to passionate future environmental professionals.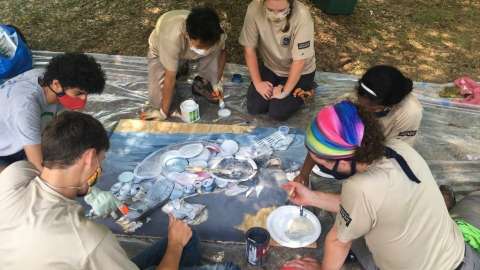 Another project the YCC tackled during their summer was the creation of storm water art.  Artists Jaclyn Bowie, Nyssa Collins, and Anna Wagner have been collaborating with the City of Raleigh's Stormwater and Arts departments to create art using trash collected from Little Rock and Walnut Creeks to highlight the importance of clean water and responsible trash disposal. In the picture to the right, they work to create low-relief art representing a turtle and a great blue heron that will hang on the chain link fence over Little Rock Creek on Peterson Street. 
While all these memorable opportunities have been helpful for the youth, it cannot be understated the amount of difficult and sweaty heavy-labor these teens have put into their time on the Youth Conservation Crew. The impact they have had on the parks and greenways in the City of Raleigh goes a long way in helping to keep our spaces in the best possible condition for our visitors.  While the four weeks these youth are in the program are quickly coming to an end, the work they have done lasts far beyond their time in the program!