New Convention Center Hotel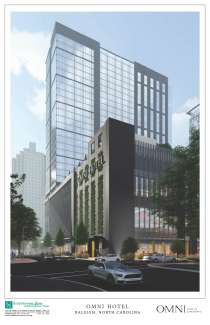 On Sept. 19, the Raleigh City Council voted to direct staff to enter into negotiations with Omni Hotels and Resorts to develop the highly-anticipated convention hotel in the core of downtown Raleigh. The new hotel will be built on a one-acre lot across from the Raleigh Convention Center and Martin Marietta Center for the Performing Arts at the end of Fayetteville Street. 
The Omni Raleigh Hotel is anticipated to include 550 guest rooms and 55,000 square feet of meeting space, which will allow for larger events to take place downtown and support the growth of the Raleigh Convention Center expansion. The hotel will also feature several food and beverage outlets, a rooftop pool, a spa, and a fitness center.
"This is a tremendous opportunity for the City of Raleigh and Wake County. We've been envisioning a new convention center hotel downtown for years. We are now one step closer to making it happen," said Raleigh Mayor Mary-Ann Baldwin. "This opens up endless possibilities for more conferences, more conventions, and more events at the Raleigh Convention Center. And the economic benefits cannot be underestimated."
Once the terms are negotiated, this will be brought back to the City Council for final approval at a later meeting, and the hotel could open in 2027.
Raleigh Convention Center Expansion
Recently the Raleigh City Council and the Wake County Commissioners approved plans to expand the Raleigh Convention Center using tax money from hotel stays and restaurant meals.
More and more organizations are looking at Raleigh for their next big event. In fiscal year 2023, ninety percent of sellable dates at the Raleigh Convention Center were booked. A full convention center means full hotels, successful restaurants, busy shops, and a healthy local economy.
"With this expansion, we will attract significantly larger events and generate even more economic impact," says Kerry Painter, Director of the Raleigh Convention Center and Performing Arts Complex. "We have missed out on numerous opportunities simply because we lack the space and the hotel rooms to compete. With this expansion, we will finally have the capacity to meet that demand."
The new complex will:
Add 500,000 square feet of meeting space, including some 30 additional breakout rooms;
Include 50,000 square feet and an additional 30,000 square feet of flex halls for hosting large events or for breaking up into smaller areas; and,
Add an additional capacity of 20,000 people (doubling the current RCC capacity).
Impact
There is little doubt the Raleigh Convention Center (RCC) is a major economic driver for our city and the surrounding area.
Since opening in 2008, the Raleigh Convention Center has welcomed over 1.8 million people and, in conjunction with the Greater Raleigh Convention and Visitors Bureau, has contracted more than one million hotel room nights through 2030.
To put that in perspective, the convention center's economic impact in Wake County now surpasses three quarters of a billion dollars. That money eventually makes its way to support projects in various Wake County towns.
Convention centers across the country play a critical role in communities. They help fill the space, typically weekdays, between high tourism events. They provide jobs and attract businesses. The expansion of the Raleigh Convention Center, along with the new hotel, will likely have a ripple effect throughout the broader Wake County area.
"Expansion of the Raleigh Convention Center, as well as the hotel, will considerably increase the opportunities to recruit and secure larger city-wide meetings, conventions, and sports groups to Wake County that are currently out of reach with our current infrastructure. We look forward to working with the City to move the project forward," said Dennis Edwards, President and CEO of Visit Raleigh.
The expansion of the Raleigh Convention Center could be complete in the next four years.