---
Who Should Register
Forming a Neighborhood Organization
Benefits of an Organization and the Registry
Requirements
How to Register
Neighborhood Map
---
Registered Neighborhood Groups Enjoy Benefits
The Raleigh Neighborhood Registry is the official list of neighborhood-based organizations throughout the city and its extraterritorial jurisdiction.
The Neighborhood Enrichment Services Division established the Neighborhood Registry in 2002 to get residents more involved in decisions affecting their neighborhoods.
The Neighborhood Registry includes more than 360 neighborhood-based organizations. Neighborhood organizations that are not already on the Neighborhood Registry are invited to join. There is no charge to be listed on the Neighborhood Registry.
Who Should Register
Eligible organizations include groups such as:
Homeowner Associations
Neighborhood Associations
Block Clubs
Community Watch Groups
Garden Clubs
Forming a Neighborhood Organization
The Neighborhood Enrichment Services Division will help you organize your neighborhood for free. Forming a neighborhood-based organization is all about bringing people together to work for the betterment of everyone. Neighborhood-based organizations succeed when residents are eager and willing to make their own decisions about programs and projects. That is why residents are the ones who should take the lead in organizing themselves. However, the Neighborhood Enrichment Services Division can offer advice and support. For more information, call or email the Neighborhood Enrichment Services Division at 919-996-4330 RNR@raleighnc.gov.
Benefits of an Organization and the Registry
Benefits of Forming An Organization
Provides a way for neighbors to get to know and support each other.
More power to make changes and reach goals.
Unified voice and influence in community affairs.
Better communication with local government and other agencies.
Responsibility for keeping the neighborhood healthy and vital.
Organizations on the Neighborhood Registry receive:
City assistance with neighborhood events, festivals, activities and neighborhood cleanups.
Access to City festival equipment (Popcorn machine, cotton candy machine and more).
Eligibility to apply for Neighborhood Art & Enrichment Funds for neighborhood projects and programs.
Assigned City of Raleigh Community Relations Analyst, who can provide assistance.
Two mailings during an organization's first year on the Registry.
Access to City facilities for up to four meetings per year. 

When accessing City facilities, political activity of any type is prohibited by organizations utilizing this program.
Requirements
To register, an organization must:
Have defined geographic boundaries;
Hold at least one meeting a year;
Have officers and a contact person;
Be nonpartisan;
Be open to anyone who lives or owns property in the neighborhood
Have a constitution, bylaws or mission statement.
How to Register
Complete an online application! For more information, call or email the Neighborhood Enrichment Services Division at 919-996-4330 RNR@raleighnc.gov.
Neighborhood Map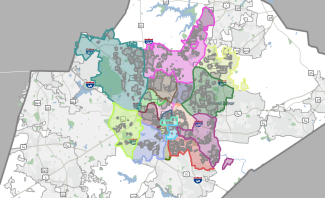 Interactive Map:
Raleigh Neighborhood Registry Resources