---
Interactive Map
Attractions
Other points of interest
---
Downtown Raleigh offers many inspiring murals to look at and snap photos with. Not only are these murals beautiful, but they have a rich history and meaning behind them.
Cost: Free, self-guided
Getting around: Walk or bikeshare
Starting point: Raleigh Convention Center, 500 S. Salisbury Street, Raleigh
Tour distance: 3 miles
Duration: 56 minutes walking; 23 minutes biking 
Full Audio tour: Available
Interactive Map
Use this interactive map to see the tour. Click on any of the sites on the map to see a description of the attraction and/or listen to the audio description. You can also view and download a PDF version of the map. 
Attractions
In this self-guided tour, you will discover 10 murals and hear the interesting stories behind them. Sites include: Shaw University, the No Damsels mural, and the Abstraction Motion mural with Google Fiber.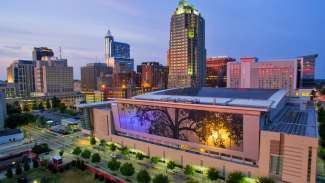 Stop 1: Raleigh Convention Center
500 S. Salisbury St.
Listen to full audio description 
Welcome to the Downtown Murals Tour, where you will see some of the beautiful art Raleigh has to offer.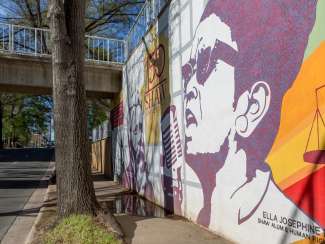 Stop 2: Shaw University 150th Anniversary
720 S. Blount St.
Listen to full audio description 
Installed in celebration of Shaw University's 150th Anniversary, this mural incorporates the themes of technology, entrepreneurship, and sustainability.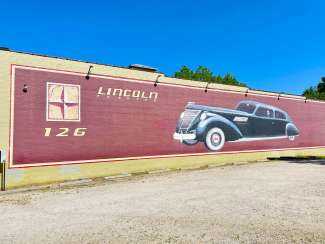 Stop 3: Honest Abe
126 E. Cabarrus St. 
Listen to full audio description 
"Honest Abe" can be found on the Lincoln Theatre's west-facing wall. The Lincoln Theatre was built in 1945 and was originally an entertainment venue for African Americans.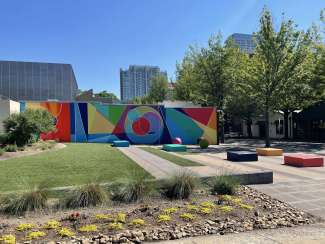 Stop 4: Color Pop Corner
102 S. Blount Street 
Listen to full audio description 
Color Pop Corner at Marbles delights the senses with its brightly-colored and eye-catching geometric shapes.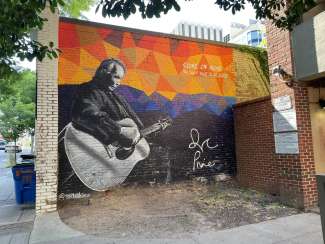 Stop 5: John Prine 
107 E. Martin St. 
Listen to full audio description 
Artist Scott Nurkin painted this mural during the 2018 World of Bluegrass International Festival as a Grammy Awards promotional push for country folk singer-songrwriter, John Prine.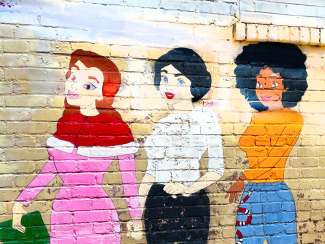 Stop 6: No Damsel 
329 W. Martin St. 
Listen to full audio description 
"No Damsel" reimagines Disney princesses like never before and places them into a modern environment.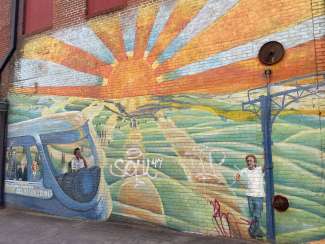 Stop 7: B.E.S.T Mural in the Warehouse District
210 S. West St.
Listen to full audio description 
The B.E.S.T. mural, meaning "Beautifying Emergency Spaces Together", was a collaborative effort between artists, residents, and businesses who had the same goal of wanting to shape downtown through shared creative expression.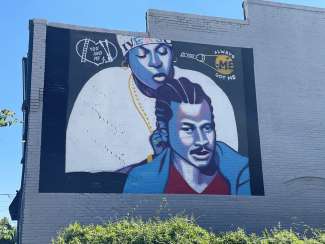 Stop 8: Ann and Allen Iverson
409 W. Martin St.
Listen to full audio description 
This mural featuring Allen Iverson was a part of CAM Raleigh's the "Above Rim Exhibition" that explored basketball through the lens of art from 16 international artists.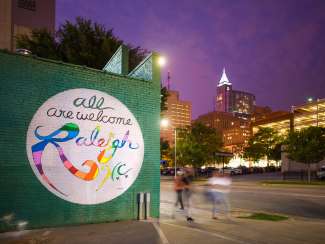 Stop 9: All Are Welcome Raleigh Mural
428 S. McDowell St.
Listen to full audio description 
Created by artist Luke Buchanan, the "All Are Welcome Raleigh" mural, welcomes visitors to Downtown Raleigh along a highly trafficked thoroughfare and was commissioned and led by Chef Ashley Christensen.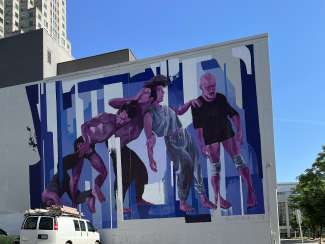 Stop 10: Abstraction Motion with Google Fiber
410 S. Salisbury St.
Listen to full audio description 
Created in 2018, this mural is the first of its kind in the world. Combining both art and technology this mural created by Raleigh native Taylor White and Google Fiber allows you to really see as well as feel the art.