---
Requirements
Not Eligible
4-Step Process
Pending Projects
Contact Us
---
The Stream Stabilization Program is a newly developed voluntary program that was approved by City Council in November 2022. This program helps with minor to moderate erosion issues caused by stormwater runoff coming from public streets or public properties (not otherwise covered by the Drainage Assistance Program). If you are experiencing severe erosion on your property, i.e. erosion threatening the structure, please refer to our Drainage Assistance Program. Eroding streams pose a severe threat to the quality of City's stream water.
The purpose of the Stream Stabilization Program is to improve the water quality by protecting and stabilizing the eroding stream banks.
Requirements
The following three requirements must be met to qualify for the Stream Stabilization Program:
Own residential, commercial or public property within the jurisdictional boundary of Raleigh.
Have stormwater runoff coming from public streets or public facilities onto the property.
Have the property owner willing to donate a permanent drainage easement.
Not Eligible
This program does not help with the following situations:
Nuisance yard flooding
Standing water
Roof/gutter problems
Stormwater runoff from private properties next to the affected property
See a clogged stormwater drain or pipe? Contact stormwater maintenance.
4-Step Process
There are several steps to completing a project through this program:
1 - Contact the Drainage Assistance Team
Do you have any stormwater issues that may qualify for the program? Call us at 919-996-3779 or email StreamStabilization@raleighnc.gov.
Please allow 24-48 hours for us to respond to an inquiry. We'll get more details from you and ask that you fill out a program request form provided by staff.
2 - Prioritizing Projects
If you qualify, we will assess the severity of your project and then score and rank it with other stream stabilization projects. Please note that the City has approximately $500k dedicated to this program per year.
3 - Approvals
Typically, 6 projects are approved in a given year. The Stormwater Management Advisory Commission (SMAC) and Raleigh City Council review and approve these projects.
It may take some time for your project to get to this point. Project funding and timing are not based on when a person submits their request form to the City. Funding for a project is based on its prioritization score. There are several projects on the waiting list.
4 - Design, Permitting and Construction
Once approved, a project then moves to the design phase and then the construction phase.
Design and permitting (about six to nine months or longer if the project is complex)
Construction (about six months) - A project cannot move forward without a permanent drainage easement or conservation easement.
Pending Projects
Approved projects are based on their prioritization score (not when you submit your request form).
You will notice that your project rank may change on the list. This is based on the severity and score of other projects. Thank you for your patience as we continue to move projects forward in effort to help the affected homeowners.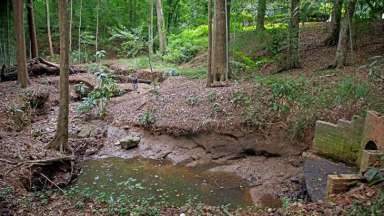 Contact Us
Have questions about the Stream Stabilization Program? Send an email to StreamStabilization@raleighnc.gov or call us at 919-996-3779.
Please allow 24-48 hours for us to respond to an inquiry. We will get more details from you and ask that you fill out an application form if you're eligible.