---
Hours
New R-Line Route Approved
Details on Buses
---
The R-Line is Downtown Raleigh's free bus service to connect employees, residents and visitors to retail, restaurants, entertainment venues and parking in the Central Business District.
Hours
Monday-Wednesday Hours: 7:00 AM - 11:00 PM   
Thursday-Saturday Hours:  7:00 AM - 2:15 AM
Sunday Hours:  1:00 PM - 8:00 PM
The circulator will run approximately every 15 minutes. The route will be served by 2 buses that will allow for headways to remain at approximately 15 minutes.
Please note, the R-LINE only stops at designated R-LINE stops indicated on the route's map.
New R-Line Route Approved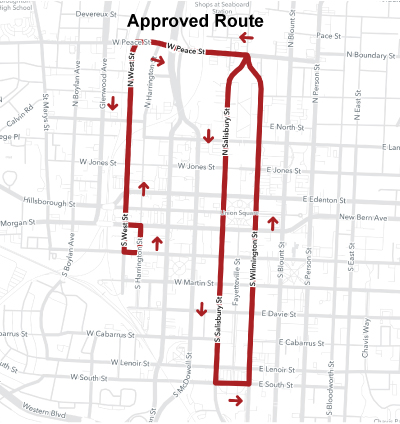 During the February 2020 Raleigh Transit Authority (RTA) Board Meeting, it was approved to move forward with the proposed new route. The RTA completed a public comment period and a public hearing in December 2020, where 340 survey responses were received and 1 comment given during the public hearing. 
For more information in the next steps with the route implementation, please feel free to contact staff at goraleigh@raleighnc.gov.
Details on Buses
This route is served by 3, 40' hybrid electric, Bus Rapid Transit (BRT) style buses; one bus will serve as a spare. The City of Raleigh chose to use 40' buses because they can easily be placed into regular GoRaleigh bus service if necessary. The City of Raleigh chose a BRT style hybrid because it is environmentally friendly, will run quietly in the CBD and it provides a distinctive look to the service.
The green and blue colors emphasize its unique "green" attribute; they stand for blue air and green earth. The design of the bus also symbolizes that the R-Line is a joint effort of the Raleigh Transit Authority, Downtown Raleigh Alliance (DRA) and the Greater Raleigh Convention and Visitors Bureau (GRCVB). The "R" logo is part of the DRA's "You R Here" campaign. Also, the colors of the bus are not only environmentally friendly but are the colors of GRCVB's logo.
The R-LINE is an example of the Raleigh Transit Authority's commitment to expand transit service in Raleigh and the City of Raleigh's commitment to make Raleigh a "green" city. For more information visit www.YouRHere.com.