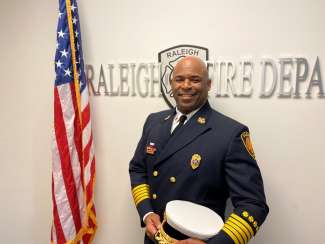 It is truly an honor to serve as the Chief of Raleigh Fire Department at this time in history, when so many cities are faced with difficult challenges. Like most departments across the country, Raleigh Fire Department faces new challenges each day to provide efficient and effective services to our community as budget constraints become more prevalent. However, we remain focused on our mission of: Unselfish dedicated service to the citizens of Raleigh.
As the Fire Chief of Raleigh, I have found that the Raleigh Fire Department consist of a group of highly trained, caring and compassionate professionals who place the interests of our citizens, the City and community stakeholders before their own. This is exhibited through our quick response to emergency calls along with our extensive community outreach and Community Risk Reduction efforts. The Raleigh Fire Department members are proud of their service to the community and demonstrate their commitment to success by researching new ways of providing the most efficient and professional services possible to those who reside in, work in, or visit our community.
I look forward to serving as the Chief of Raleigh Fire Department for many years to come, implementing my core principles of: Education, Training, Health & Safety, Effective Communication, and Quality Customer Service that will enhance excellence in public safety. I am committed to continually evaluating our operations to ensure we consistently exceed expectations of community and residents whom we are proud to serve.
Herbert Griffin
Fire Chief 
Raleigh Fire Department