---
Video: Inside Peek of the Fire Academy
47th Recruit Academy Graduation
---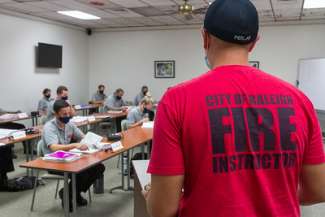 All new recruits complete a recruit academy (about 32 weeks) conducted at the Keeter Training Center which includes both intense physical training and a challenging academic program.
Recruits are required to maintain a minimum 70 percent average, recruits receive several certifications before graduation and their assignment to a fire station (EMT, Firefighter I and II, Haz-Mat Operations Plus).
View Candidate Selection Procedures Manual.
47th Recruit Academy Graduation
The City of Raleigh Fire Department recognized 20 recruits upon their completion of the Fire Academy at a ceremony on Nov. 16, 2021.