---
Video: Inside Peek of the Fire Academy
47th Recruit Academy Graduation
---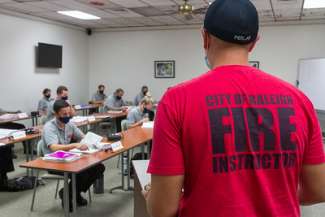 The Academy's primary goal is to assure the recruit is prepared to safely perform the duties required of a Firefighter assigned to a crew.  They will also graduate with the appropriate State Certifications required of the State of North Carolina.  The minimum required certifications are NC FF I and II, NC HazMat Level 1, and NC (or National Registered) EMT.  During the academy, recruits are required to successfully complete all skills and maintain a minimum of 70 percent grade average.  Upon graduation, the Firefighter will be assigned to one of the City's 28 Fire Stations.
The Raleigh Fire Department has three different options for our Fire Academy.  We can hire for a Traditional Academy, Abbreviated Academy, and/or a Lateral Academy.  The differences of the three are requirements needed before the start of the academy and the length of the academy. We will strive to run a Traditional Academy annually and can choose to implement an Abbreviated Academy or Lateral Academy on an as-needed basis.  
Please see the FAQs section for further details.
47th Recruit Academy Graduation
The City of Raleigh Fire Department recognized 20 recruits upon their completion of the Fire Academy at a ceremony on Nov. 16, 2021.