---
What is a Raleigh Historic Landmark?
Historic Landmark Applications
List of Raleigh Historic Landmarks (RHL)
---
What is a Raleigh Historic Landmark?
A Raleigh Historic Landmark is the local historic designation of an individual building, structure, site, area, or object that is recognized by an official local ordinance for its historic significance. The Raleigh Historic Development Commission (RHDC) must find the property to be of historical, prehistorical, architectural, archaeological, and/or cultural significance, and to possess integrity of design, setting, workmanship, materials, feeling and/or association.
Local landmark designation is different from being in a local historic overlay district or being listed in the National Register of Historic Places (NRHP). A property can be designated in multiple ways, but the designation processes are unrelated. The incentives and regulations associated with each type of designation also vary.
There are many steps to the historic landmark application process. Check out this brochure to learn more.
Historic Landmark Applications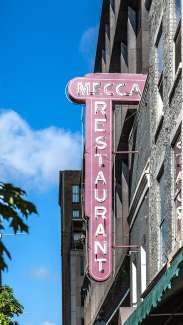 Applications for Raleigh Historic Landmark designation are reviewed, and recommendations are made by the RHDC. However, the final decision is made by City Council.
Applications are also reviewed by the State Historic Preservation Office (SHPO). Applications include a report on the history of the property as well as photographs.
Pending landmark applications are listed below.
Case #
Address and Proposed Name
Status
Contact

HLD-0001-2022

 

2501 Glenwood Avenue




William Henley and Elizabeth Deitrick House

At City Council 12/5/23 for adoption of designation ordinance.

Collette Kinane
Use the field below to filter Raleigh Historic Landmarks in the table below.
List of Raleigh Historic Landmarks (RHL)
Each landmark name is a link that will take you to RaleighHistoric.org. There you can see additional photos, designation ordinances, and historic research reports.
| Name | Address | Estimated Build Date | Effective Designation Date |
| --- | --- | --- | --- |
| | 1220 Daladams St | 1880 | 12/4/2018 |
| | 2-20 W Edenton St | 1923 | 9/4/1979 |
| | 6512 Louisburg Rd | 1847 | 5/15/1990 |
| | 220 Hillsborough St | 1903 | 3/4/1980 |
| | 1 Mimosa St | before 1808 | 5/15/1990 |
| | 407 N Blount St | 1874 | 11/6/1972 |
| | 301 N Blount St | 1918 | 11/6/1972 |
| | 1028 Cowper Dr | 1952, ca.1960 | 5/3/2016 |
| Arkansas Delaware and Vermont Connecticut Royster Confectioners Building | 207 Fayetteville St | c. 1865; c. 1892-1965 | 11/18/2008 |
| | 904 E Hargett St | c.1898, c.1922 | 10/7/2014 |
| | 1 Mimosa St | c.1810-20 | 8/7/1984 |
| | 302 N Blount St | 1922 | 11/6/1972 |
| | 514 Method Rd | 1926 | 5/4/1982 |
| | 514 Method Rd | 1928, 1931; ca. 1959 | 10/3/2017 |
| | 805 Washington St (Fletcher Park) | 1900 | 5/5/1987 |
| | 817 Hillsborough St | 1935 | 12/10/2006 |
| | 308 S Boylan Ave | 1858 | 6/16/1969 |
| | 333 Fayetteville St | 1965 | 12/10/2006 |
| | 220 Fayetteville St | 1874 | 6/26/1969 |
| | 504 E Jones St | c. 1860-1920 | 12/6/2011 |
| | 424 N Blount St | 1898 | 5/15/1990 |
| | 127 New Bern Pl | 1917 | 5/15/1990 |
| | 16 W Martin St | 1929 | 5/15/1990 |
| | 421 Maywood Ave | 1892; 1900; 1910; 1919 | 12/2/2002 |
| | 400 N Person St | c. 1882; c.1900 | 12/2/2002 |
| | 1526 Tryon Rd | 1933; c.1950 | 7/20/1999 |
| | 228-232 Fayetteville St | 1876; 1902 | 10/17/2001 |
| | 505 MLK Jr Blvd (Chavis Park) | c.1916; 1937 | 11/18/2008 |
| | 410 Ashe Ave (Pullen Park) | pre-1912 | 9/23/1976 |
| | 120 E Edenton St | 1854 | 6/16/1969 |
| | 519 E Hargett St | 1798 | 3/6/2018 |
| | 214 E Market St | 1913-1914 | 5/15/1990 |
| | 116 N West St | 1925 | 12/31/1998 |
| | 133 E Hargett St | 1926 | 11/18/1992 |
| | 330 Hillsborough St | 1879 | 6/16/1969 |
| | 2121 Lake Wheeler Rd | c.1922; c.1960 | 5/21/2002 |
| | 511 S Wilmington St | 1900 | 9/1/2009 |
| | 1804 Hillsborough St | 1916 | 8/1/1995 |
| | 137 S Wilmington St | c. 1870 | 2/21/1978 |
| | 1810 Fayetteville St | 1940 | 5/18/1999 |
| | 1807 Wills Ave | 1926 | 2/16/1999 |
| | 16 N Boylan Ave | c. 1813 | 6/16/1969 |
| | 200 N Blount St | 1883-91 | 5/15/1990 |
| | 3056 Granville Dr | 1949 | 12/7/1993 |
| | 314 Fayetteville St | 1874 | 11/6/1972 |
| | 99 N Salisbury St | 1859 | 6/16/1969 |
| | 101 S Wilmington St | 1904 | 9/4/1979 |
| | 112 S Salisbury St | 1900 | 6/16/1969 |
| | 1519 Brookside Dr | 1952; 1979 | 10/3/2017 |
| | 110 S East St | 1874, c.1899, c.1914 | 12/6/2011 |
| | 1428 Canterbury Rd | 1960-61 | 6/5/2012 |
| | 105 Brooks Ave | 1966 | 11/8/1995 |
| | 414 N Person St | 1915 | 12/2/2014 |
| | 501 S Person St | ca. 1922 | 8/4/2015 |
| | 505 Jefferson St | 1924 | 11/19/1996 |
| | 115 E Hargett St | c.1880; 1961 | 12/6/2011 |
| | 530 N Blount St | 1881; before 1903 | 12/13/1994 |
| | 1101 Hillsborough St | 1939 | 11/18/1992 |
| | 122 Cox Ave | 1968-1977 | 9/7/2010 |
| | 310 N Blount St | c. 1882 | 11/6/1972 |
| | 211 New Bern Pl | c. 1799 | 6/16/1969 |
| | 309 N Blount St | 1870 | 11/6/1972 |
| | 503 E Jones St | between 1872 and 1875 | 9/4/1979 |
| | 218 N East St | between 1872 and 1875 | 9/4/1979 |
| | 511 E Jones St | between 1872 and 1875 | 9/4/1979 |
| | 3060 Granville Dr | 1950 | 10/18/2000 |
| | 555 New Bern Ave | before 1850 | 9/4/1979 |
| | 417 N Blount St | 1878 | 11/6/1972 |
| | 1905 Garner Rd | 1920; 1926 | 12/1/2020 |
| | 200 S Salisbury St | 1907, ca.1920 | 10/3/2017 |
| | 20 Watauga Club Dr | 1889 | 6/16/1969 |
| | 11 S Blount St |   | 5/3/2016 |
| | 634 N Blount St | 1916 | 2/2/2021 |
| | 213 Oberlin Rd | 1930s | 5/15/1990 |
| | 1015 Oberlin Rd | c.1900 | 11/18/2008 |
| | 728 W Hargett St | c.1760 | 11/6/1972 |
| | 1201 Park Dr | 1923 | 12/3/2013 |
| | 2120 White Oak Rd | 1929 | 6/4/2013 |
| | 1002 Oberlin Rd | c.1900 | 11/19/1996 |
| | 1117 Hillsborough St | c.1910; 2003 | 12/12/2004 |
| | 1025 Blue Ridge Rd | 1952 | 9/23/1976 |
| | 7408 Ebenezer Church Rd | 1775 | 5/15/1990 |
| | 1001 Parker St | c.1892 to 1930 | 7/6/2010 |
| | 422 N Blount St | 1899 | 11/6/1972 |
| | 212 N State St | 1917 | 9/1/2009 |
| | 109 S Bloodworth St | 1881-82 | 4/16/1991 |
| | 304 E Jones St | 1878-1914 | 3/3/2015 |
| | 515 N Blount St | c.1855 | 5/15/1990 |
| | 616 Method Rd | ca.1940 | 10/3/2017 |
| | 226 Fayetteville St | 1896-1903 | 5/15/1990 |
| | 116 N Person St | c.1990 | 5/15/1990 |
| | 1100 Wake Forest Rd | 1920 | 12/10/2006 |
| | 1110 Wake Forest Rd | 1960 | 12/10/2006 |
| | 427 S Blount St | 1907 | 5/15/1990 |
| | 821 Runnymede Rd | 1954 | 11/8/1995 |
| | 2214 Wheeler Rd | 1954 | 12/1/2020 |
| | 13 E Martin St | c.1880; 1930s | 7/14/2014 |
| | 500 N Blount St | 1875; 1910 | 12/3/2013 |
| | 128-138 E Hargett St | 1912 | 9/4/1979 |
| | 214 New Bern Pl | c.1906 | 8/7/1984 |
| | 1 Mimosa St | c.1785; 1826 | 11/6/1972 |
| | 1322 Mordecai Dr | 1924 | 6/7/2022 |
| | 1120 Fayetteville St | 1872 | 3/6/2018 |
| | 433 N Person St | 1916 | 6/21/1988 |
| | 3108 Hillmer Dr | c. 1795 | 10/20/2015 |
| | 2714 Vanderbilt Ave | 1886 | 12/12/2004 |
| | 216 W Jones St | 1898 | 9/4/1979 |
| | 4900 Hillsborough St | 1928 | 5/15/1990 |
| | 723 St Marys St | 1929 | 5/15/1990 |
| | 212 Lafayette St | 1899 | 9/4/1979 |
| | 4303 Beryl Road | 1873 to 1968 | 12/3/2019 |
| | 4028 Carya Dr | c.1855; c.1900; 1940-41 | 11/18/1992 |
| | 1014 Oberlin Rd | 1873-1971 | 2/19/2013 |
| | 1001 Wade Ave | 1956 | 12/12/2004 |
| | 19 W Hargett St | 1923-24 | 12/7/1993 |
| | 1 Mimosa St | c. 1847 | 5/15/1990 |
| | 1101 Pender St | 1858 to 1931 | 9/7/2010 |
| | 122 Perquimans Dr | 1959 | 8/4/2015 |
| | 3227 Birnamwood Rd | 1956 | 9/1/2009 |
| | 3017 Granville Dr | 1956 | 6/21/2011 |
| | 15 E Peace St | c.1861 | 6/16/1969 |
| | 912 Williamson Dr | 1959 | 12/12/2004 |
| | 1103 Haynes St | 1893 | 5/15/1990 |
| | 1111 Haynes St | 1910; c.1917 | 5/15/1990 |
| | 5300 Castlebrook Dr | c.1841 | 12/7/2010 |
| | 414 Glenwood Ave | 1928 | 12/31/1998 |
| | 2822 Van Dyke Ave | 1916 | 6/7/2022 |
| | 814 Oberlin Rd | between 1878 & 1893 | 10/3/2017 |
| | 113 S Wilmington St | c.1872 | 6/16/1969 |
| | 127 W Hargett St | c.1924 | 8/7/1984 |
| Raleigh Banking and Trust Company Building (Raleigh Building) | 5 W Hargett St | c.1913; 1928-29; 1935-36 | 12/7/1993 |
| | 1515 Capital Blvd | c. 1923, 1940s, c.1949, 1950s | 12/6/2011 |
| | 614 Capital Blvd | 1890 & 1895 | 11/19/1996 |
| | 513 W Jones St | c.1910, 1930 | 12/31/1988 |
| Raleigh Federal Savings and Loan (Old Masonic Temple Building) | 133 Fayetteville St | 1907 | 9/4/1979 |
| | 119 E Hargett St | 1914 to 1963 | 6/21/2011 |
| | 301 Pogue St | 1938-1940; 1966; 1988-89 | 4/16/1991 |
| | 3210 Hillsborough St | 1937 | 12/19/1996 |
| | 127 E Edenton St | c. 1854 | 6/26/1969 |
| | 3039 Churchill Rd | 1950 | 12/8/1995 |
| | 125 E South St | c.1855 | 12/3/1979 |
| | 3801 Hillsborough St | 1941-1947 | 9/7/2010 |
| | 1315 Oakwood Ave | 1895 | 6/16/1969 |
| | 1315 Oakwood Ave | 1909 | 12/3/1979 |
| | 900 Hillsborough St | 1856 | 6/16/1969 |
| | 900 Hillsborough St | 1834 | 6/16/1969 |
| | 900 Hillsborough St | 1906 | 9/4/1979 |
| | 900 Hillsborough St | 1839 | 6/16/1969 |
| | 900 Hillsborough St | 1835 | 6/16/1969 |
| | 15 N Tarboro St | 1930-1967 | 12/17/2008 |
| | 250 Method Rd | 1923 | 10/22/2009 |
| | 5410 Louisburg Rd | 1922 | 7/14/2014 |
| | 402 W Edenton St | 1910 | 12/3/1979 |
| | 413 N Salisbury St | c.1862 | 5/23/1990 |
| | 118 E South St | 1874 | 3/24/1973 |
| | 800 S Wilmington St | 1912; c.1920; 1968 | 4/21/2015 |
| | 816 S Wilmington St | 1881; 1910; 1996 | 4/21/2015 |
| | 400-412 Fayetteville St | 1924 | 4/14/1980 |
| | 310 Lake Boone Tr | 1951; 1961 | 12/14/1995 |
| | 705 Barbar Dr | c.1815 | 12/3/1979 |
| | 123 New Bern Pl | 1813 | 9/9/1969 |
| | Union Square | 1840 | 5/23/1990 |
| | 219-223 E Hargett St | 1881 to 1909 | 12/3/1979 |
| | 516 E Jones St | 1851 | 10/20/2021 |
| | 3700 Trenton Rd | c.1810-20 | 12/11/2005 |
| | 910 Harvey St | 1939 | 11/10/2009 |
| | 116 St Mary's St | Late 19th Century | 10/14/1976 |
| | 501 S Blount St | 1912; 1957 | 11/7/2000 |
| | 530 Oakwood Ave | 1900 | 12/3/2019 |
| | 401 E Whitaker Mill Rd | 1912-14 | 4/16/1991 |
| | 1000 Fayetteville St | 1923-24; 1927; 1948-50; 1996 | 2/18/1997 |
| | 115 W Morgan St | 1887 | 6/26/1969 |
| | 206 New Bern Pl | c.1799 | 6/5/1986 |
| | 311 Calvin Rd | 1925 | 1/7/2014 |
| | 1415 Poole Rd | 1915 | 3/6/2018 |
| | 802 Oberlin Rd | Between 1884-1891 | 12/22/1993 |
| | 3200 Hillsborough St | 1926 | 12/29/2010 |
| | 1023 Oberlin Rd | 1910-11 | 11/18/1992 |
| | 3720 Lake Wheeler Rd | c.1756; 1820; 1854 | 5/23/1990 |