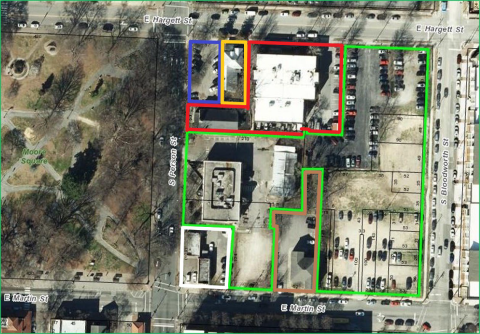 The City of Raleigh is requesting proposals from one or more firm(s) for the redevelopment of two City-owned sites:
Moore Square East is a +/- 2.5-acre site located at 215 S. Person St., Raleigh, NC, with frontage on S. Person, E. Martin, S. Bloodworth, and E. Hargett Streets.
Moore Square South is current a +/- 0.9-acre site at 225 E. Davie St., and 228- 230 E. Martin St. consisting of a parking lot adjacent to the historic City Market.
These city-owned parcels are a rare, generational opportunity for the city to act on its aspirational policy goals and directly impact the future of our downtown. The intent is to attract developer(s) that will deliver a high-quality, mixed-use product that could include Office, Retail, Residential, and/or Hospitality development and to create housing opportunities for those that would otherwise be unable to live in our central business district. The projects are expected to contribute to the vitality and vibrancy of the adjacent assets of Moore Square Park and the historic City Market, and to downtown generally. The City encourages creative and innovative proposals and is looking to private sector thought leaders for innovative ideas that maximize the potential of this signature site in our downtown.
The City Council has demonstrated its commitment to affordable housing through multiple policy and programmatic initiatives. The maximization of affordable housing units is a key consideration for the evaluation of proposals.
2021 State of Downtown Report - Comprehensive, 92-page, annual downtown market report including in-depth development activity and segment specific information for multifamily, office, retail and hospitality.
DRA Quarterly Market Report - Quarterly, 16-page issue of updated and condensed downtown market information including up-to-date development tracking and segment-specific economic metrics and activity details.