---
Deconstruction vs. Demolition
Who is Deconstruction for Specifically?
Architectural Salvage Warehouses
Who Can Help?
Learn More
---
What is Deconstruction?
Deconstruction is the process of taking apart a building piece by piece in order to reuse the building components. Although it takes a bit more time and skill than demolition, deconstruction allows materials that are still in good condition to be saved. Deconstruction also supports the recovery and reuse of hard-to-find, highly-durable, and hand-crafted materials that are no longer commercially available, such as old-growth wood.
Deconstruction vs. Demolition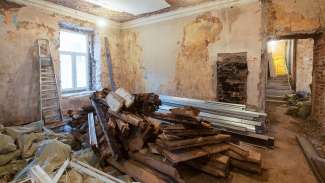 Deconstruction is a more sustainable alternative to demolition. Did you know building materials make up about 30-40% of our nation's solid waste stream? Commercial debris isn't even accepted at Wake County's public landfills. Deconstruction cuts waste conserves landfill space, reduces the environmental impact of producing new materials, and creates skilled labor jobs.
Instead of taking extra debris to the landfill, you can donate carefully deconstructed materials to an architectural salvage warehouse. On top of avoiding dumping fees, donations are often tax-deductible.
Who is Deconstruction for Specifically?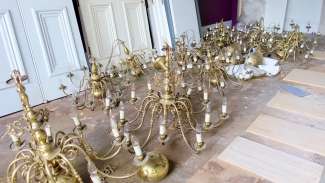 Developers (Donate salvaged materials before demolition or reuse in new project)

Contractors (Source hard-to-find building materials for repairs and historic rehab projects)

Individual homeowners (Find a durable front door to match the style of your house or discounted fixtures)

Small businesses and craftspeople (Upcycle vintage materials as new products)

Distributors/manufacturers (Create storage space by clearing unwanted and surplus items)
Architectural Salvage Warehouses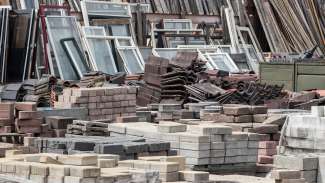 Several architectural salvage warehouses operate in North Carolina. Many are linked to local historic preservation non-profit groups. Unlike a typical antique mall, architectural salvage stores focus on construction materials and architectural details. In addition to accepting reusable historic building materials, some warehouses also serve as a great source for secondhand modern building materials, fixtures, and appliances for savvy homeowners. Check with your local architectural salvage shop to determine what materials they will accept. Some common items include:
Dimensional lumber and beams

Masonry units (brick & stone)

Wood siding (without lead paint)

Exterior and interior doors

Windows

Shutters

Wood trim

Columns

Railings

Mantels

Cabinetry

Metal roofing

Wood & tile flooring

Sinks

Tubs and shower surrounds

Light fixtures

Hardware, etc.
Who Can Help?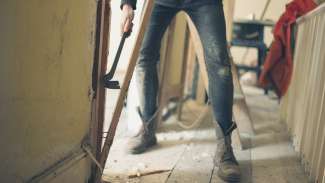 Local Deconstruction Contractors:
Demolition crews interested in training to become certified deconstruction contractors can find more information at the Building Materials Reuse Association or The Reuse Institute. If you have a firm that offers deconstruction services to the Raleigh area or you wish to be removed from this list, please contact us at historicpreservation@raleighnc.gov.
Restoration Contractors:
Many area restoration contractors will gladly come harvest millwork pieces and other architectural details of a building slated for demolition. Since they reuse these historic materials in their own historic rehab projects, restoration contractors will often salvage the material at no cost to you.
VonDoster Restoration and Construction

Allen Historic Restoration LLC

Pat Schell Restoration
See the PNC Professional Associates Network for more options. To be added or removed from this list, please contact us at historicpreservation@raleighnc.gov.
Architectural Salvage Warehouses:
To be added or removed from this list, please contact us at historicpreservation@raleighnc.gov.
The list of contractors or any hyperlinks provided on this website is for the information and convenience of the public and reflects known contractors in this field or contractors that have requested to be listed. It does not constitute an endorsement or recommendation of the City of Raleigh and you are encouraged to fully investigate the qualifications of any contractor that you select for your project.
Learn More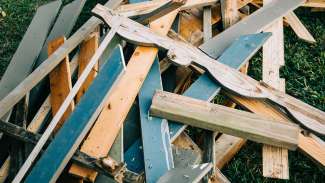 Individuals interested in learning more about the benefits, challenges, and process of deconstruction can find many resources online. Some helpful educational organization websites are listed below:
City of Raleigh Solid Waste Services – Unique Items Recycling