What is Walktober? 
Walktober offers fun events to help promote walking as a free, healthy and environmentally friendly option in the City of Raleigh.
Walktober is sponsored in partnership with Commute Smart Raleigh. Commute Smart consultants offer solutions to alleviate traffic congestion by encouraging the increased use of transportation options such as walking, biking, transit, carpooling, and parking cash-out.
Let's get moving!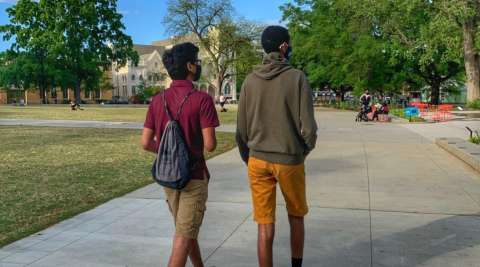 Historic Church Walk
Saturday, October 2, 10 - 11:30 a.m.
Meet a member of Raleigh's Bicycle and Pedestrian Advisory Commission (BPAC) at St. Paul African Methodist Episcopal Church to walk to downtown churches as part of the free annual Historic Church Walk.
Registration requested.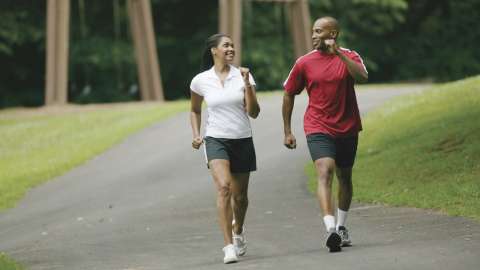 Commute Smart Raleigh WALKinar: A Virtual Intro to Better Walking
Tuesday, October 5, 12 - 1 p.m.
Join the City's Commute Smart Raleigh program to hear local experts speak about walk infrastructure plans and policies. Come learn about the health benefits of walking from a local expert.
Register today!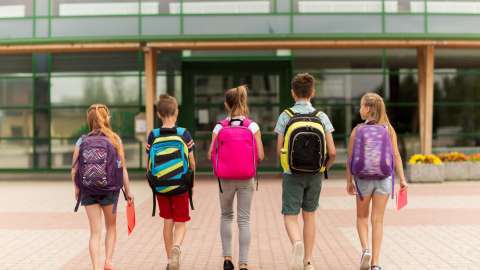 Walk to School Day
Wednesday, October 6, locations and times vary
Check with your child's school to learn more about Walk to School events.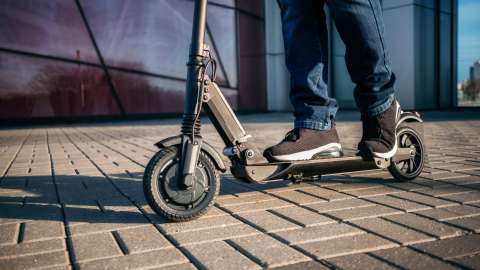 Ride Raleigh - A Scooter Safety Event
Saturday, October 9, 11 a.m. to 2 p.m.
Downtown Raleigh Moore Square Park
Join City of Raleigh staff and scooter vendors Bolt, Lime, and Spin for a day of instruction and fun while learning how to park, ride, and safely operate devices, and for all riders to engage with the community.
Registration is not required, but you can sign up for a reminder.
White Cane Safety Day
Friday, October 15,  4 - 6 p.m.
Join the Raleigh Wake Chapter of the Federation of the Blind to learn more about services for the visually impaired and to take a short walk together.
Meet at the Raleigh Municipal Building at 222 W. Hargett Street at 4 p.m. and take a group walk at 5 p.m.
Stroll In The Streets
Sunday, October 17, 12 to 5 p.m.
Lenoir Street and South Saunders Street, Downtown Raleigh
Bring the family along with your bike, scooter, skateboard or walking shoes to roll or walk in a traffic garden at Chavis Park.
The community is invited to Stroll in the Streets in celebration of a new multi-modal connection between two of Raleigh's favorite downtown parks.
Following Raleigh City Council approval last summer to establish an accessible and safe connection for bikes and pedestrians between John Chavis Memorial Park and Dorothea Dix Park.
Bike-Walk-Rail Event
Saturday, October 23, 9:30 - 11:30 a.m.
Bike from the Village District Citrix Cycle station to downtown. Walk with the group to learn about Raleigh's newest Rail addition – Union Station. Return as a group. Experience how all modes of transportation help our city. Reserve a Citrix Cycle, ride your own bike or meet at Union Station for this unique multi-modal experience.
Registration required. Bike availability limited.
Masks are required.
Dix Park Guided Walking Tour
Saturday, October 23, 1 - 3 p.m.
This free 2-hour, 3.5 mile walking tour will cover the history of the buildings, land, and legacy of Dorothea Dix; the current use of the area as the headquarters of the Department of Health and Human Services; and the next steps the City is taking to plan the future of the park.
The Chapel Event Hall at Dix Park
1030 Richardson Drive 
Raleigh, NC 27603
Family Scarecrow Walk
October 29 - October 31, 9 a.m. to  6 p.m.
Bring the whole family to walk Powell Drive's trail to see a variety of unique creations on the annual Scarecrow Walk.
Registration not required. 
Historic Oakwood Cemetery Tour
Saturday, October 30, 2021, 10 - 11 a.m.
Join a member of the Bicycle and Pedestrian Advisory Commission (BPAC) on a free tour of the Oakwood Cemetery.
Registration required. Limited availability.
Walking Clubs
Join others for regular walking at these City of Raleigh parks:
Chavis Center Walking Club (16+) meets every Tuesday from 6:30 - 9:30 p.m.
Worthdale Walkers Club (50+) meets every Thursday from 11 a.m. to 1 p.m.