---
Income Requirements
Current Status
Where is East College Park?
---
The East College Park neighborhood is an established community adjacent to Saint Augustine University with access to public transit, major employers, and the downtown corridor. 
The City is facilitating the development of 98 single-family homes and 51 townhome units with 60% buyer income-restricted homes (limits defined by HUD guidelines) and 40% of the homes with no buyer income restriction. Homeowners are required to use the home as a primary residence and will also be subject to a 10-year deed restriction. 
East College Park has been recognized as a model of affordable homeownership development in North Carolina. To date, 92 of the 98 single-family homes have been completed or are under construction, while land use for the six remaining lots is undetermined at this time. In the near future, the City will begin construction of at least 12 townhome units in East College Park.
For lot availability, please contact the real estate agent that is representing each builder directly. 
Income Requirements
As part of the East College Park build, 60% of the homes must be sold to income restricted households with incomes that are below the 80% HUD AMI. 
Look below to see if your income qualifies. 
| Maximum Income Limits | Family of 1 | Family of 2 | Family of 3 | Family of 4 | Family of 5 | Family of 6 | Family of 7 | Family of 8 |
| --- | --- | --- | --- | --- | --- | --- | --- | --- |
| 80% | $63,500 | $72,550 | $81,600 | $90,650 | $97,950 | $105,200 | $112,450 | $119,700 |
Current Status
In December 2017, construction started in the East College Park Neighborhood. This is a two-phase project with single-family homes being built first and townhomes being built last.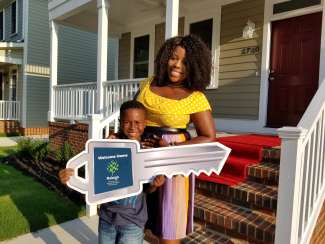 Overall, the project will bring about 150 new homeowners to the area.
Single-family homes sold to homeowners: 86
Remaining single-family homes under construction: 10
For lot availability, please contact the real estate agent that is representing each builder directly. 
Where is East College Park?
East College Park is south of Washington Terrace and is bounded by Hill Street on the west, Oakwood Ave. on the north, Raleigh Boulevard on the east, and New Bern Avenue on the south. The area is within minutes to locations like WakeMed, Enloe High School, St. Augustine's University, and downtown.