Raleigh Area Land Trust (RALT), the first community land trust in Raleigh and Wake County, NC, sold its first affordable home to an income-eligible and first-time homebuyer last month. The sale marks a significant milestone for the organization and the community it serves.
In support of this project, the City of Raleigh provided a 0% interest, deferred payment loan to RALT for $130,000. The loan provided seed funding for the purchase and rehabilitation of two homes, which were updated to be sold to eligible low-income homebuyers under the community land trust model.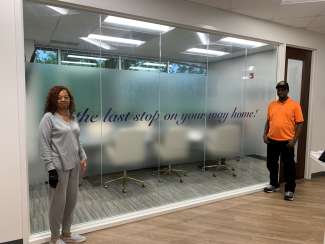 RALT's mission is to create and preserve affordable housing for low- to moderate-income families in Wake County. It does this through utilizing a community land trust, a shared equity model for homeownership that keeps homes affordable across generations. This approach ensures the home remains affordable for 99+ years and provides long-term stability for the community.
The home, located in southeast Raleigh, is a newly remodeled three-bedroom, one-bathroom single-family home. The homebuyer was able to purchase the home at an affordable price, thanks to the nonprofit's efforts to secure funding and subsidies from the City of Raleigh and individual donors. Immediately following the sale, Mungo Homes Foundation hosted their Week of Service on-site to provide in-kind support to install new landscaping and fencing for RALT's newest homes. Mungo Homes Foundation provided a donation to cover the cost of the materials and installation.
James Watson, the homebuyer, a veteran and lifelong Raleigh resident, expressed gratitude for the opportunity to purchase a home at an affordable price. "This has been a dream come true for me," said Mr. Watson. "I never thought homeownership would be possible and would be renting for the rest of my life, but thanks to RALT, I now have a place to call my own." Watson has worked to maintain housing for others serving as maintenance supervisor for an affordable housing provider in the area for the last two and a half years. He now has a place near where he grew up and close to family and friends.
RALT is also partnering with the City on its Lane-Idlewild Assemblage, in which the City sold the land for just one dollar. RALT estimates that 18 homes will be developed on this property. The nonprofit plans to continue creating and preserving affordable housing for low- to moderate-income families in Wake County, aiming to preserve and make 100 affordable homes available over the next five years.
"Homeownership can provide community stability, and assists individuals in the creation of generational wealth building, which is what we hope to achieve with the launch of our homeownership program," said Fussell. "We are committed to continuing our work to make homeownership a reality for more families in the future and working to break ground on our first multi-unit development, the Cottages of Idlewild, later this year." To learn more about RALT or to support its mission in expanding affordable homeownership in Raleigh and Wake County, visit www.ralt.org.