Our friends at visitRaleigh have partnered with us to create the Raleigh Locals Guide, a new website that identifies uniquely Raleigh places, experiences, and traditions. Visit Raleigh Locals Guide to:
Find places to visit for longtime residents and weekend visitors alike
See Raleigh's most visited attractions
Explore Raleigh's hidden gems
Learn about the city's unique traditions
Want to submit an idea?
The guide is curated by Raleigh and surrounding area residents. We invite anyone to add to our growing list of Raleigh activities. Click here to submit your idea! You can also take one of our free, self-guided tours.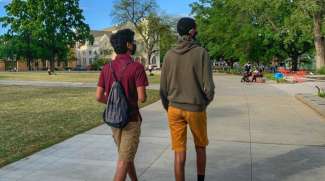 Self-Guided City Walking Tours 
If you are looking for something fun to do on the weekend, hidden gems or are a local who wants a staycation these self-guided tours are for you. These five walking tours highlighting artistic, historic, and quirky sites throughout Raleigh were curated by the teens in our Digital Connectors program.
Click on one of the tours below to see the walking route, learn about the sites, listen to the audio tours, and download a map.