---
General
Financial Sector
Healthcare Technology
Software
Sustainability, Innovation, and Social Justice
Venture Funds for Women and Minorities
---
A variety of venture capital firms and banks provide funding and other support for entrepreneurs from seed money and early stage to full development and growth. View by category.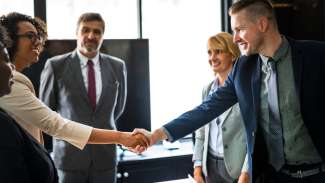 General
These companies and groups help with everything from seed money, to development, advice, and risk management.  
Name
Description
Bluedoor
bluedoor.us
Search: Start-ups
19-902-5837

 

Bluedoor partners with entrepreneurs and start-ups to take their product from design and development, piloting and validation, through to successful market launch
Bootstrap Advisors
bootstrapadvisors.com 
919-345-7086
 
 
Develop companies from pre-revenue ideas into profitable businesses.
Carolina Seed Investors
carolinaseedinvestors.com 
 
Carolina Seed Investors is examining new strategies for investing in pre-revenue start-ups that reduce risk early on in a venture's life cycle while also cutting costs associated with due diligence and monitoring.

Intel Capital
intel.com Search: Overview
408-765-8080

 

Since 1991, Intel Capital has helped entrepreneurs turn great ideas into successful businesses, through the power of partnership.

Madison River Ventures
madisonriverventures.com 919-123-4567

 

Madison River Ventures (MRV) is an active investor in early stage companies. They invest in extraordinary entrepreneurs who have the vision, ability and drive to build great teams and even greater companies

Pilot Mountain Ventures
pilotmtventures.com

 

Pilot Mountain Ventures is a seed stage venture capital firm, based out of New York City but investing globally. Their team is comprised of successful investors, consultants, corporate officers, and entrepreneurs with over fifty years combined experience.

Pinkubator
thepinkceiling.com
844-746-5267

 

Pinkubator puts their creativity, contacts and cash to work for cutting edge concepts and founders.

Silicon Valley Bank
svb.com
800-774-7390

With $23 billion in assets and more than 1,600 employees, SVB provides commercial, international and private banking through 34 locations worldwide.

The Launch Place
thelaunchplace.org | 919-990-8558

 

The Launch Place strives to foster an environment for new and serial entrepreneurs to raise capital and garner the support system needed to take their products and/or solutions into the market place.

True Bridge Capital Partners
truebridgecapital.com | 919-442-5201

 

Established in 2007, TrueBridge Capital Partners is an alternative asset management firm focused on generating superior returns in the venture capital industry.
Financial Sector
Name
Description
Mainstream
mainstreamgroup.com 212-802-7980
 
Mainstream Group Holdings Limited is a specialist fund administrator for the financial services industry. Our clients are typically fund managers, superannuation trustees, listed companies, family offices and dealer groups.

True Bridge Capital Partners
truebridgecapital.com
919-442-5201

 

Established in 2007, TrueBridge Capital Partners is an alternative asset management firm focused on generating superior returns in the venture capital industry.
Healthcare Technology
Funding for medical devices, biopharmaceuticals, healthcare services, diagnostics and biotechnology.
Name
Description

Mission BioCapital
missionbiocapital.com
617-812-3350

With a focus on founders and open innovation, their transformative venture capital model helps biotech innovators find success, more quickly.
Cato BioVentures
Cato BioVentures and Cato Research partners with entrepreneurs, academic institutions and biotech and pharmaceutical companies. Cato BioVentures focuses on early to mid-stage investment opportunities in private companies and undervalued public companies.
 
Disruptive Enterprises
 
Disruptive Enterprises, LLC is committed to making innovative new foods, beverages, dietary supplements, and medical foods accessible to help more people realize the benefits of a ketogenic (low-carb/high-fat) diet.
Echo Health Ventures
echohealthventures.com
206-259-2584

Echo Health Ventures invests to build and grow great healthcare companies.

Excelerate Health Ventures
exceleratehealth.com
Excelerate Health works exclusively with healthcare startups to fund, incubate and accelerate their ventures.
Golden Pine Ventures
goldenpineventures.com
919-473-9296

Golden Pine Ventures, LLC is a venture capital company that seeks biotechnology and biomedical opportunities developed by leading researchers and grow them into valuable businesses. Golden Pine Ventures specializes in identifying revolutionary technologies.

Hatteras Venture Partners
hatterasvp.com

Hatteras Venture Partners invests primarily in early stage companies with a focus on biopharmaceuticals, medical devices, diagnostics, healthcare IT, and related opportunities in human medicine. The firm typically invests in the research-driven regions of North Carolina and the Southeastern United States.

IDEA Fund Partners
ideafundpartners.com
919-808-4000

IDEA Fund Partners, an active seed and early stage venture investment firm in NC, is focused on high-growth sectors, such as software, technology with IP protection and medical devices. 

Pappas Capital
pappas-capital.com 
919-998-3300
Pappas Capital invests exclusively in the life sciences – biotechnology, specialty pharmaceuticals, drug delivery, diagnostics, medical devices and related ventures. The The largest share of its capital is focused in companies whose lead products are at the Phase 1 or Phase 2 stage of development. 
Rex Health Ventures
https://www.rexhealth.com/rh/rex-health-ventures/ 
919-784-3100

RHV's focus is on early stage ideas to mid-stage companies with an industry focus on new treatments, tools and products for healthcare services, Healthcare IT, Medical devices and Biopharma technologies.

River Cities Capital Funds
rccf.com
919-374-5600

Founded in 1994, River Cities Capital Funds is one of the most active and experienced growth equity funds in healthcare and information technology (IT). River Cities has an office in Raleigh, NC.
Software
Name
Description

Bull City Venture Partners
bcvp.com

BCVP is a venture capital firm investing $250K to $2 million in Software and Internet Companies.
IDEA Fund Partners
ideafundpartners.com
919-808-4000
IDEA Fund Partners, an active seed and early stage venture investment firm in NC, is focused on high-growth sectors, such as software, technology with IP protection and medical devices. 
Sustainability, Innovation, and Social Justice
Name
Description
8 Rivers
8rivers.com
919-667-1800
8 Rivers is developing the sustainable infrastructure of tomorrow by inventing and commercializing large-scale innovations in future-critical areas.

Cherokee Investment Partners
cherokeefund.com
919-743-2500

Cherokee is an investment company that blends capital with creativity, experience and resolve to provide superior financial, environmental and social returns for investors, partners and communities.
One Better Ventures
1bv.co
One Better Ventures nurtures and develops consumer brands that have a positive impact on the world.
SJF Ventures
sjfventures.com
919-530-1177
SJF Ventures is comprised of experienced venture capitalists that invest in high-growth companies creating a healthier, smarter and cleaner future. Its mission is to catalyze the development of highly successful businesses driving lasting, positive changes. The SJF team has invested in over 50 ventures since 1999.

Solidarity Capital Group
solidaritycap.com

Solidarity Capital Group is an impact investment firm that finances economically sustainable social justice enterprises addressing works where public and private sector funds are.
Venture Funds for Women and Minorities
Several area organizations help provide guidance, training, and capital for female founders and minority entrepreneurs. 
Name 
Description 

All Raise 
allraise.org 

 All Raise is on a mission to accelerate the success of female founders and funders to build a more prosperous, equitable future. All Raise programs arm women with access, guidance, and support to advance their professional growth.  

Black Girl Ventures Foundation
blackgirlventures.org  

Their mission is to provide Black/Brown woman-identifying founders with access to community, capital, and capacity building in order to meet business milestones that lead to economic advancement through entrepreneurship. 

BLCK VC
blckvc.com

BLCK VC is a nonprofit with the goal of doubling the representation of Black investors by 2024. They provide a focused community built for and by Black venture investors, while providing them the resources they need to succeed and pushing the industry to face and change its shortcomings.

Founder Gym 
foundergym.com

Founder Gym is the leading online program training underrepresented founders on how to raise money to scale their tech startups. The leadership team is comprised of founders, startup advisors, professional educators, and seasoned tech ecosystem builders.
HBCUvc
hbcu.vc

HBCUvc's mission is to direct how capital is formed and distributed to increase opportunities for Black and Latinx innovators.  They accomplish this by developing, connecting, and mobilizing the next generation of venture capital leaders in communities where entrepreneurs face barriers in accessing capital, and by empowering institutions to employ race-conscious investing practices. 

New Voices Foundation newvoicesfoundation.org  
New Voices Foundation has invested more than $1.4 million in non-dilutive capital and matched support dollars in companies owned by women of color, and more. They help women of color entrepreneurs get the capital, access, expertise, and resources they need.