---
2023 Neighborhood Exchange
---
The Raleigh Neighborhood Exchange (RNEX) is an annual event hosted in September by the Neighborhood Enrichment Division in honor of Neighborhoods Month!
The event celebrates Raleigh's amazing neighborhoods and brings our neighbors together. At the grassroots level, the event helps people of every age and background become more active in their neighborhoods and the wider Raleigh community. 
2023 Neighborhood Exchange
The community event will be held at Carolina Pines Community Center on Friday, September 15 from 5 p.m. to 8 p.m. Stop by to join the free event - no registration required.
This year's neighborhood theme is "Cultivating Community Culture" and our goal is to help discover the communal gifts and strengths that live in our neighborhoods!
Carolina Pines Community Center
2305 Lake Wheeler Rd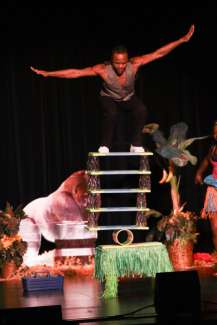 Activities 
Come join us for a wonderful afternoon enjoying some of the following activities: 
Learn About City Programs: Meet staff from City of Raleigh departments and learn about capacity-building and neighborhood programming 
Storytelling: Hear from spoken word artist Donna Washington
Acrobatics: Be amazed by the Kenya Safari Acrobats
Music: Enjoy samba reggae music from Batala Durham
Kids Art Lab: Create cool art with one of Raleigh's amazing artists, Shannon Newby 
Food Trucks: Indulge in some yummy cuisine! The first 250 people to arrive will get a ticket for free food.
Interactive DEI Session: There is a "Cultivating and Connecting Communities through Conversation" Session to learn more about your shared and differing identities and outlooks with your peers. Registration is closed at this time.
About Neighborhood Enrichment 
The Neighborhood Enrichment Division manages programs and initiatives which bring our community together. 
As a part of the Housing and Neighborhoods Department, the division helps individuals, groups, and communities recognize their skills and assets, mobilizes people to take action on their own behalf, and connects them to appropriate resources so they can achieve positive results for their neighborhoods and communities. Learn more