---
Repairing Historic Properties Following a Natural Disaster
Insurance Claims Process
Building Permits
Assistance from the Federal Emergency Management Agency (FEMA)
State and Federal Rehabilitation Tax Credits
Certificates of Appropriateness (COA)
---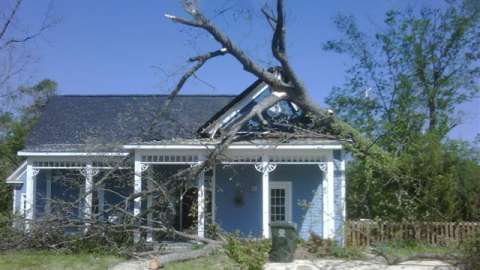 Storms and natural disasters sometimes leave a trail of devastation through Raleigh's historic landscape. Many property owners and residents of Raleigh's existing and potential National Register Historic Districts and Landmarks have suffered property damage as a result of a natural disaster. Information on recovery is often released piecemeal. The Raleigh Historic Development Commission (RHDC), Raleigh City Council's advisory body in matters related to historic preservation, has compiled this resource sheet on repairing your historic property in the wake of a natural disaster.
Repairing Historic Properties Following a Natural Disaster
The N.C. State Historic Preservation Office website has a wealth of information on protecting historic resources, including information for owners of damaged buildings following a natural disaster. In order that they may assist you efficiently, N.C. State Historic Preservation Office requests that you submit a brief Historic Property Damage Report. Another resource for technical information is the National Trust for Historic Preservation.
You can also reach the State's preservation office at 919-807-6570.
Insurance Claims Process
If your property is located within a National Register Historic District, you may be able to justify more costly repairs; for instance, if your slate roof is damaged, the insurance company may urge you to replace it with a less-costly asphalt shingle roof. By providing documentation of your property as historically significant, the insurance company may be willing to repair or replace the more costly slate roof. SHPO's website provides tips for handling insurance claims.
Building Permits
Contact the Development Services Customer Service Center (DSCSC) at 919-996-2495. Building repairs often require a building permit; the City's DSCSC is available to guide you through the permitting process.
Assistance from the Federal Emergency Management Agency (FEMA)
If the President declares a major disaster area for North Carolina, Federal Government assistance may be available. FEMA's website offers information on federal aid for disaster recovery. You can also reach them by phone at 800-621-3362.
State and Federal Rehabilitation Tax Credits
If you own a property that is listed individually in the National Register or that is located within a National Register Historic District, repair projects may be eligible for state and/or federal rehabilitation tax credits. The State Historic Preservation Office may expedite the review for property owners with storm damage; please contact them directly for assistance. Information on the tax credit program is on their website or by phone at 919-814-6800.
Certificates of Appropriateness (COA)
Certificates of Appropriateness (COA)
(www.rhdc.org or 919-832-7238)
If your property is located within a local Historic Overlay District (Blount Street, Boylan Heights, Capitol Square, Glenwood-Brooklyn, Moore Square, Oakwood, Oberlin Village, Prince Hall) or is a Raleigh Historic Landmark, and you are making exterior changes to your property that exceed basic repair, you need to apply for a COA. 
Additionally, in the event of a natural disaster or a declared state of emergency, a COA for minor work authorizing temporary disaster-related exterior changes in order to weatherproof or stabilize damaged property may be approved (such approval shall not relieve the applicant/property owner of making permanent repairs that meet the established guidelines). RHDC staff is available to assist you in this process.