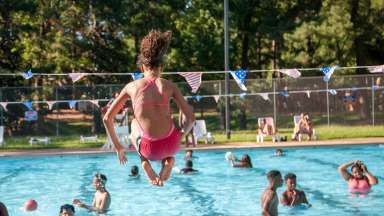 Address
Biltmore Pool
701 Crown Crossing Lane
Raleigh, NC 27610
Hours
Sunday, August 28, 2022 will be the Last day of Summer Operation. 
| | | | |
| --- | --- | --- | --- |
|   | FRIDAY - 8/26 | SATURDAY - 8/27  | SUNDAY - 8/28 |
| LAP SWIM | 9 a.m. to 7 p.m. | 9 a.m. to 7 p.m. | 1 to 7 p.m. |
| PUBLIC OPEN SWIM | 10 a.m. to 7 p.m. | 10 a.m. to 7 p.m. | 1 to 7 p.m. |
| WADING POOL* | 10 a.m. to 7 p.m. | 10 a.m. to 7 p.m. | 1 to 7 p.m. |
*Contact the pool to confirm the availability of the Wading pool on the day of your visit.
Pool Rules
Children should not use the swimming pool without adult supervision.
Adults should not swim alone.
Pets are prohibited throughout the facility.
Glass containers are prohibited throughout the facility.
Before entering the water, make sure that a lifeguard is on duty.
Please wear proper swimming attire in the pool (see manager regarding acceptable clothing).
Diving is limited to areas of more than five feet of water depth.
Rough play in pool and on the deck area is prohibited.
Floating aids and some toys are not permitted in the pool (see manager for what is acceptable).
Face masks and goggles are permitted with non-breakable lenses if used properly.
Lap lanes are for adult use only. Please do not hang on the lane ropes.
Please walk. Running is prohibited on the deck.
Smoking and consuming food and beverages must be done in designated areas only.
To provide a family atmosphere, abusive/profane language or excessive public displays of affection will not be permitted.
Admission to the pool may be denied for any of the following reasons:

When an individual is apparently unable to care for themselves or is intoxicated
Evidence of contagious disease, open sores, or wounds
Any condition jeopardizing the health and safety of the general public

Distracting the attention of a lifeguard is not allowed.