---
Peterson Street – Next Generation Modular Speed Cushions
Pre-Pilot Installation Data
Peterson Street Ballot Period Results
---
The City of Raleigh is committed to the continual evaluation of products and strategies to increase quality of life along neighborhood streets through various forms of traffic calming.
Modular Speed Cushions are one such product that we are deploying in an effort to evaluate effectiveness and long-term viability.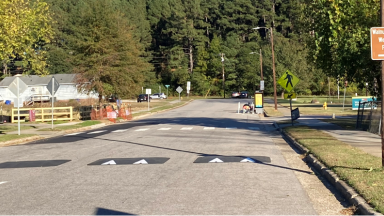 Peterson Street – Next Generation Modular Speed Cushions
The City of Raleigh has placed modular speed cushions in three strategic locations along Peterson Street between S State Street and Garner Road.
While being the highest-ranking qualifying street under Section 10 of the NTMP policy, the surrounding amenities make Peterson Street an ideal candidate for this traffic calming pilot installation. Along Peterson Street there is housing, a middle school, a greenway crossing, an in-street Citrix Cycle station, and the Walnut Creek Wetland Park. By placing the modular speed cushions in strategic locations, our goal is to enhance the existing amenities in place while working to slow drivers down and correct a historical crash problem identified.
Pre-Pilot Installation Data
To ensure all projects are effective, the City of Raleigh collects before project data as well as after data at approximately 6-9 months after project installation.
Speed Data: Average 85th percentile speed – 36.06 mph
Crash History: 2 speed related crashes in the previous three years

Post-Pilot Installation Data
In May of 2022, city staff evaluated the Peterson St installation and found the following results:
1506 Peterson Street:
85th percentile speed: 30.22 mph
950 Peterson Street:
85th percentile speed: 27.11 mph
Crash History: 0 speed related crashes during the 1-year pilot installation period.
Peterson Street Ballot Period Results
Staff was able to complete the ballot count and with the Council approval at the February 7, 2023 Council meeting, the Peterson Street – Speed Cushion Pilot Project is slated to become a permanent installation.
100% of the ballot participants voted in favor of making this pilot project a permanent fixture along the street.
Staff will work to add the Peterson St project to the next grouping of traffic calming projects placed out to bid for construction. Construction of the permanent speed cushions will likely occur in the second half of 2023 or early 2024.