---
Instructions and Information on Parking Meters
Metered Parking Time Limits
Remember your license plate
Pay at More Than One Machine
Using the Keypad
All Major Credit Cards Accepted
Instructions for ADA Parking
Printed Receipts
Early Morning Appointments Before 8 AM
---
Instructions and Information on Parking Meters
Metered parking is in effect Monday through Friday (except for City-observed holidays) throughout the Core Downtown Business District, Glenwood South and Hillsborough Street near North Carolina State University to promote turnover of available parking for visitors. Parking is enforced by a combination of Raleigh Parking staff and by Raleigh Police Department. Our metered parking pay stations are license-plate-based so please remember your license plate number when parking in downtown Raleigh.
Some of our pay station features include:
Better accessibility such as large backlit color screen and multi-lingual interface
Solar powered machines that provide fewer environmental impacts.
Use of credit card, coins, or the Passport parking mobile app
Follow the steps below on how to properly proceed when using metered parking.
Metered Parking Time Limits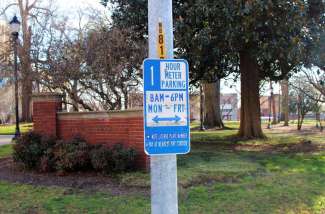 Metered parking areas are identified by distinctive blue-colored signs posted along each block which indicate the enforcement day and times and maximum time limits.
Metered zones consist of 30-min, one-hour and two-hour time limits. The shorter time limits are provided for quick turnover for such businesses as banks, post offices, etc.
Parking meters can be re-fed, as long as the posted time limit is not exceeded.
On-Street Parking Meter Rates and Hours of Enforcement
Corridors
Hours
Hillsborough Street Corridor
8 a.m. to 8 p.m.
Mon - Fri
$1.50 per hour
Fayetteville Street Corridor
8 a.m. to 6 p.m.
Mon - Fri
$1.50 per hour
Glenwood South Corridor and all
remaining Downtown Central Business District
8 a.m. to 6 p.m.
Mon - Fri
$1.25 per hour
Remember your license plate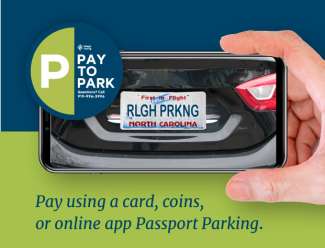 Once parked, you only need to remember your license plate number and pay at the nearest pay station.
Pay at More Than One Machine
It is recommended that you pay at the nearest pay station to avoid getting an "expired meter" citation but for convenience you can also pay at any other machine on the same block, or using the Passport Mobile Pay App. You will usually find two pay stations on each block.
Using the Keypad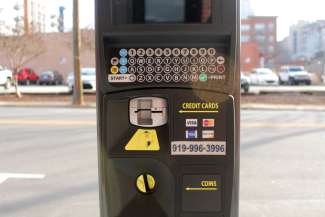 Using the key pad, begin by entering your license plate number. You can pay for as little or as much time as you need, up to the maximum allowed. Pay stations accept most U.S. coins and all major credit cards.
As you deposit your coins, you will see the purchase time increase in increments on the display.
Continue depositing coins until your desired time has been reached. You will be unable to purchase more time than the time zone allows.
All Major Credit Cards Accepted
After entering your license plate number - press OK.
Select your desired time by using the plus or minus symbols on the keypad.
Once you have selected your desired time, hit the ok (green check mark), wait for the pay station to instruct you to insert your card (insert card with mag stripe face down and to the right).  DO NOT pull the card out until prompted to do so by the display. This has been found to be one of the most common reason customers complain the machines are not working properly.
If your transaction is successful, the pay station will advise you and provide you the option of receiving or not receiving a printed receipt. This receipt is for your records and there is no requirement to place it on your dash or windshield.
Instructions for ADA Parking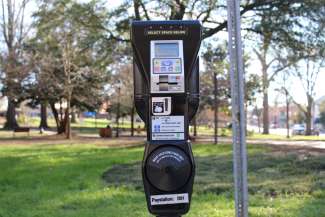 The pay stations have been programmed to enable those with valid placards or license plates to purchase as much time as they may need exceeding the designated time limit in one payment to avoid making return visits.
Once you have entered your license plate in the pay station, chose Option 2 for Accessible Parking. This will give the customer the ability to pay for an extended time.
Accessible Parking Space Map - Downtown
Early Morning Appointments Before 8 AM
If you arrive for an early morning appointment the meters will allow you to pay in advance for the time you think you will need.  The meters will not begin counting down time until 8 AM. If you think there is any danger of exceeding the time limit it is recommended that you park in a deck where there is no limit.  Please be advised that repeat metering is not permitted.